Hearing Rebel Heart blare through the arena on Monday Night was a beautiful thing to hear and a sight to see, Johnny Gargano, better known as JOHNNY WRESTLING is BACK. He teased a debut in AEW, a return to the indie scene, and a return to WWE. He, thankfully, chose the latter due to the man in charge of WWE creative now. Now he's back, it looks that his first feud will be with his former protégé and Mr. Money in the Bank, Theory, who interrupted his return speech.
Going forward, there are some dream matches we could see Gargano getting involved with, it looks to be that he will be on RAW but with a rumored draft coming up, we can't count out the talent on Smackdown. Not only that but there does seem to be some freebird rule in WWE at the moment.
From Indie Darling To WWE Superstar: Kevin Owens
Two indie darlings who love a superkick, what more could you want? Well, KO going back to his prizefighter roots would be the perfect heel for the valiant babyface in Johnny Wrestling. Owens has been somewhat floundering on the main roster, he's just always been there but never really in a good enough feud. Outside of the Ezekiel program, he hasn't really done much, even in that feud, he got over for being angry.
This would be a perfect midcard feud for the both of them over the US title, as it would allow both men to fall back on former partners to bolster the program; Gargano on Ciampa and KO on the multitude of partners he's had and turned on in the past. The work rate in this match would be next to none, hard hitting, compelling and something I can see opening one of the big five shows of the year.
Let Butch Return To The Bruiserweight Pete Dunne
RUN. IT. BACK. These two men have had some great bouts in NXT over various titles and every single time, they were absolute bangers. Butch hasn't really done much since being on the main roster except be the living embodiment of Scrappy Doo. It could be the start of a great program where Gargano is trying to get to Sheamus for whatever reason, and he has to go through Butch and Ridge before getting to The Great White. Or, it could just be a one-off barn burner from two of the best in-ring workers, we've seen it before and we know we will see it more.
It would not only be great for Gargano, mixing it up with a former adversary, but it would do the world of good for Butch because we've seen nothing from him on the main roster. Not many WWE fans watched NXT too so might not know how incredible he is, and to match him up with Gargano? Incredible.
Seth Rollins Vs Johnny Gargano: Mr. NXT Vs Mr. NXT
The original Mr NXT vs the most recent Mr NXT, a clash we haven't seen since the indies when Seth Rollins was under the name, Tyler Black. Again, like Kevin Owens, Seth would be the perfect heel to the valiant babyface and the promos Seth would come up just to get under Johnny's skin would be just magnificent. The other focal point of this feud would be Triple H, both men have been Triple H's golden boy, his number one in the past and would just create some great television as we watch it unfold.
I feel like we'd see this as a filler feud more than anything first off, between like one of them winning the Royal Rumble and the main event of Wrestlemania, but it would be something that would be revisited, especially if Seth comes out the victor. It would replicate the program Gargano had with Andrade in NXT over the title where he felt like he couldn't win the big one after losing so many times prior. Not mentioning, the in-ring work would be absolutely mesmerising, both men going hell for leather to prove their best. Hook it, IN…MY…VEINS.
The Ring General: Gunther
In Gargano's return promo, he mentioned how he dreamed of holding the United States and the Intercontinental Championships, who else to put in this list than one of them men who hold one of those titles. It was a toss up between Gunther and Lashley but from an in-ring standpoint, it has to be the Ring General.
Gunther, like the Beast Incarnate, works so well with smaller talent. Just look at his matches with Ricochet, Shinsuke Nakamura, Ciampa and Tyler Bate. He works so well as the beast being toppled by the valiant David to his Goliath. This is one of the more unlikely matches to happen on the list in the near future due to both men being on different brands, and I believe by the time it would happen, Gunther would be either WWE Unified Universal Champion, or whatever version we'd have then. Still a match I would love to see, with or without a title.
The American Nightmare: Cody Rhodes
I think this is just a clash of two men we've never seen before and probably never even thought of before. Cody made his ridiculously over-the-top return to WWE in April whereas Gargano made his, very unexpectedly and somewhat muted last week. Two completely different parallel's that I think would make for an incredible bout, and that could be the story, using Cody's need to be number one and at the top against him.
Something like what The Miz did during his small involvement in Cody and Seth's feud this year. In-ring-wise, this would be a little indie classic, something I wouldn't have said about Cody before he went and created AEW but his style has evolved massively since departing WWE in 2016. Both men are top-class wrestlers, whose ability to use storytelling and their emotions in matches, I think creates the perfect recipe for a top-class bout.
The Phenomenal AJ Styles
Of course, I was going to put the Phenomenal One, and best wrestler (in this writer's humble opinion) on a list to compete against Johnny Wrestling. AJ hasn't really done an incredible amount as of late since his team with Omos disappeared into the ether. With this, it is simply two incredible wrestlers having an incredible wrestling match, with no need for a storyline or any stipulations. It's something I can see happening randomly on a RAW, which is ludicrous, but why would we complain?
Gargano has such a similar style as AJ, due to their heavy involvement with the indie circuit for so many years. I, personally, don't care about how, why, or when this happens, I just want to see AJ Styles do what he does best against Johnny Gargano and probably, put over Johnny Wrestling.
Sami Zayn: A Return of the Underdog from the Underground
I was asked to add this one in by a fellow writer but, it would be an absolute barn burner. If, and I mean IF, Sami Zayn returned to his NXT roots and stepped away from his current conspiracy theory character. Sami, like Seth before him, was Mr. NXT and represented the yellow and gold with honor and pride. The same as Johnny Gargano. Another clash of two men who held that division on their back and made it the best damn product they possibly could, having a clash of generations on WWE TV. Another clash of similar in-ring styles, hard-hitting and fast-paced, and just give me this match now.
This is another match though, that could struggle to happen due to both men being on separate brands. We could see this match in the current guise with Gargano chasing Roman and the WWE Undisputed Universal Championship, having to go through Sami first to get anywhere near Roman. I would personally want to see a program between the two over the Intercontinental Championship, which would result in Sami giving up his 'honorary Uce' status and returning to Mr. NXT.
DIY Vs The Uso's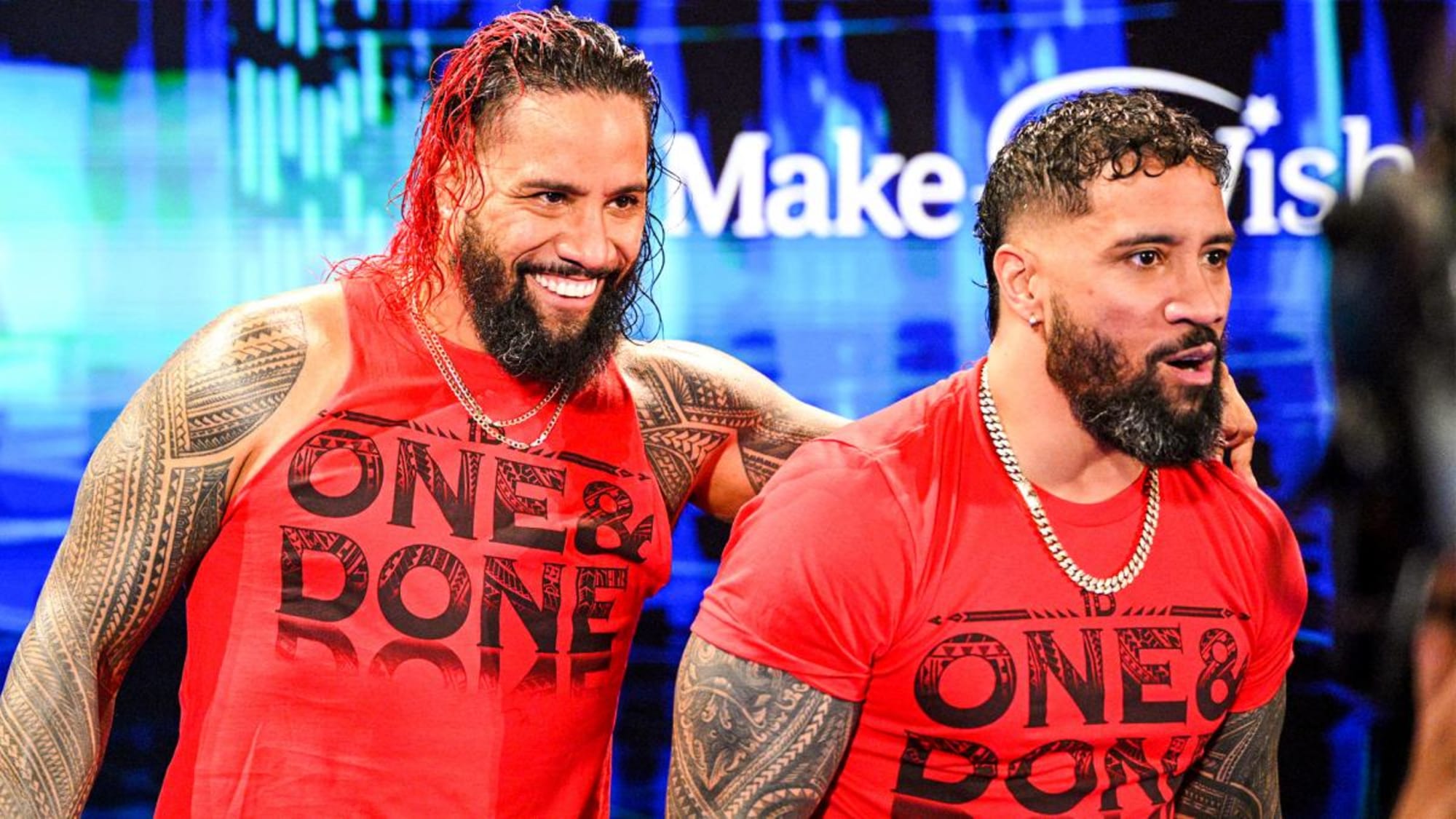 A DIY reunion to take down The Bloodline? Yes, please.
This one is one of the less likely to happen with what Ciampa is doing at the moment but it isn't outside of the realms of possibility inside WWE. It has seemed that no one can take down The Uso's, and at the time of writing this, they don't have a match coming up at WWE Clash at the Castle. Even less chance of them losing the titles with no matches being booked, but titles or not, this wouldn't need it.
I feel like the best way we would get to this is Gargano going after Reigns, being outnumbered before hearing 'No One Will Survive' blaring out and the Blackheart coming to save his former friend. And, you know what? Give me it. Even as a one-off, like DIY's match against Moustache Mountain in 2020 (remember that?), the magic these four men could create would be incredible, as well as giving us a beautiful arc to the story of Ciampa and Gargano.
The Tribal Chief, The Big Dog, The Head of the Table: Roman Reigns
Reigns vs Gargano is something I would love to see because both men do both parts of a compelling story so well; Gargano is that fiery underdog, scratching and clawing his way to the top. And Roman? Well, Roman batters his opponents in a merciless fashion but he also underestimates his opponents, especially smaller ones, he gloats and throws up 'the one' to only be surprised with a flurry of attacks. And that, is something I want to see from Mr Wrestling, possibly trying to pry the WWE Undisputed Universal Championship from The Head of the Table, if the latter can survive the Scottish Warrior in Wales.
Even if we get no title, Reigns can make any story compelling with his promo abilities, which have come leaps and bounds since he debuted, and will his facial expressions. I can see the confused and frankly pissed off look on his face as Rebel Heart interrupts him, Gargano challenging The Tribal Chief for a great little feud if Reigns is to drop the titles. We MAY see Gargano having to ACKNOWLEDGE HIM.
Ciampa and Gargano: Fight Forever
You just knew this one was going to be in here, but I surprise myself with its inclusion. I was never the biggest fan of their feud and matches in NXT but I can understand why their quartet was loved so much. Their bout in the Cruiserweight Classic is actually my favorite out of all their matches as it was the first time I got exposed to both men. If we could replicate the animosity and hatred between the two as we saw in unsanctioned and street fight matches respectively, I think we would see a lot more eyes on them and a lot more searches on the WWE Network for their previous encounters.
That would involve Ciampa returning to his darkest of dark, which we can just easily use The Miz as fodder to get there. He destroys everyone in his path, picking up the US Title on his way before being met with the Rebel Heart. You're probably thinking, a hardcore affair over a midcard belt? Well, belt or not, we all want to see them knock ten bags of s**t out of each other again.
I am glad he's back, bring Candice and Quill next time because we need to see the Poison Pixie and Baby Wrestling kick some ass. Gargano, is weirdly polarizing, some people love him and his match style and others hate it. But, you got to admit, he's great at what he does and he will excel under Triple H's guidance on the main roster.