The Indie 52: Independent Matches That Matter June 15-22, 2023 
The world of independent professional wrestling is jam-packed with matches of all shapes, sizes, and colors. Every night of the week, promotions across the world run shows for audiences of all sizes, and literally, anything can happen. That level of unpredictability is why I love indy wrestling (and Indi Wrestling but that's another story) and why I want to spotlight some of the matches that I think other fans should check out. 
Titus Alexander (c) vs. Nick Wayne | West Coast Pro Championship Match @ Prestige Wrestling: Black Sunshine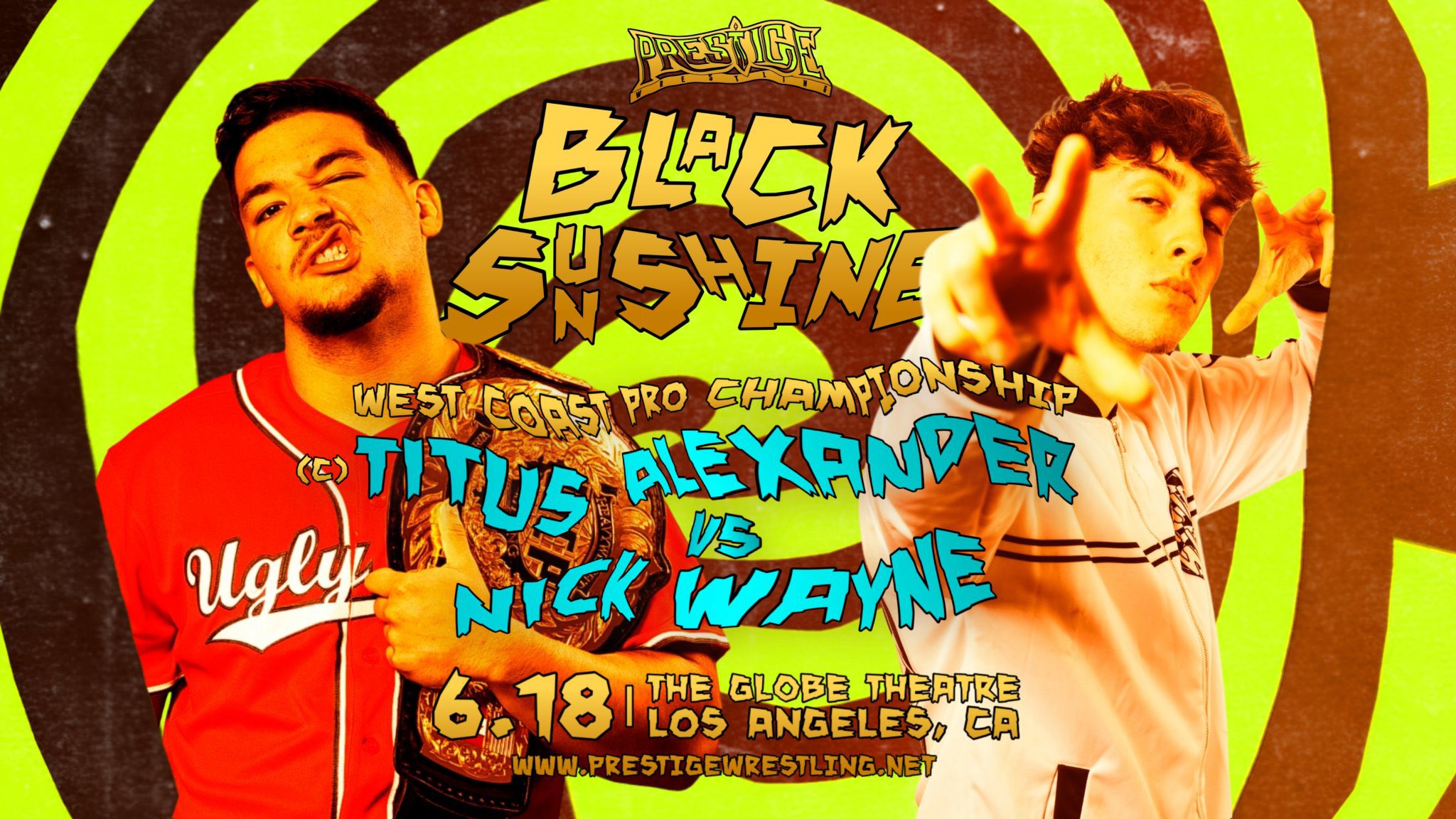 Winner: Titus Alexander 
Young rivals, racing to outdo and one-up the other. Special talents, trying to be even more special than the other. Reaching the very top of the mountain doesn't mean as much if you don't beat your opponent on the way there. This type of competition is definitive throughout sports history and was once again on display in a West Coast Pro Championship match between the defending Titus Alexander and the challenging Nick Wayne. 
Wayne and Alexander have impressed crowds from coast to coast and will continue to do so for years to come. This match was somewhat of a closing chapter for the pair's rivalry, and both wrestled like they never wanted it to end. Nick and Titus moved and struck with incredible synchronization, taking their time to engross the crowd. The action peaked just before the 20-minute mark, with a dazzling display of seesaw-like moves that left both men collapsed on the mat and the crowd pounding the ring with admiration.
The champ Alexander had one final trick to slay his adversary and friend, delivering a Sweet-Time Driver off the top rope. Wayne, who graduated high school the day before, will soon move onto his already-signed AEW contract, and the independent wrestling scene will miss him. Alexander will continue as a special talent of the Indies, and at only 22 years he could soon follow Nick to the big show. I have enjoyed these two wrestlers many times, and urge you to jump on each's bandwagon sooner than later. 
To finish: a few words of my own about the son of Northwest wrestling legend Buddy Wayne. I am a huge Nick Wayne fan, both as a person and as a professional wrestler. The few times I have been able to meet the prodigious talent, he has been a kind and respectful human. I cannot wait to see him shine as a member of the AEW roster, and ambassador of the sport. 
Kevin Blackwood vs. Roderick Strong @ Prestige Wrestling: Black Sunshine 
Winner: Roderick Strong 
Welcome back to the wild and wonderful world of independent wrestling Roderick Strong! After a seven-year absence, Roddy made a triumphant return in a terrific match against a new stalwart of the scene in Kevin Blackwood. Both athletes are tough as nails and full of technical wrestling knowledge, two qualities that combined for an effective contest.
Blackwood took a ton of punishment in this match but showed a tremendous fighting spirit. Blackwood is a throwback warrior oozing with fighting skill, and certainly earned the respect of his opponent and everyone watching. A true war of attrition was finally ended by Strong with a huge jumping knee and End of Heartache finisher.
Strong will certainly once again make a major impact in the Indies, and Blackwood notches another big-time matchup in his young and impressive resume. 
The Rascalz (Trey Miguel, Zachary Wentz, Myron Reed) & Ricky Shane Page vs. Second Gear Crew (Mance Warner, Manders, Matthew Justice) & Jon Moxley @ Wrestling Revolver and the Ring of Destiny 
Winners: Second Gear Crew (Mance Warner, Manders, Matthew Justice) & Jon Moxley 
If the Second Gear Crew wasn't rough and tumble enough, the crazy SOBs went and added Jon Moxley to their destructive collective. This match was to determine which team would have an advantage in the upcoming Cage of Horrors match between the two trios, which will be held for the Pro Wrestling Revolver Tag Team Championship.
The Rascalz and SGC, with their respective friends, brawl all over the arena until all eight men were bruised and bloodied. In the end, Moxley was able to pin Page, leaving the ultimate battle inside the Cage of Horrors pure and an exciting prospect for fans. High spots, unfiltered violence, and a child used as a weapon are just a few of the reasons you should check out this overstuffed buffet of pro wrestling madness. 
The Rascalz also had a terrific match against the legendary Motor City Machine Guns in the main event of Prestige Wrestling's Black Sunshine (one of the best indie shows of the year thus far), as Miguel and Wentz appeared as official representatives of Revolver. Prestige and Revolver have been engaged in a heated promotional war, which will hopefully lead to a full show full of inter-promotional grudge matches in the near future.
Arez vs. Aramis vs. Laredo Kid vs. Vikingo @ Dreamwave Wrestling Nothin' But A Good Time 
Winner: Vikingo 
Anyone that loves the lucha libre style of wrestling just had to take a look at the participants in this match to get pumped, and it certainly delivered. The match was to crown a new number-one contender, with the winner getting a shot at the Dreamwave Wrestling Alternative Championship, currently held by another tremendous luchador: Gringo Loco. After a series of unbelievable move after move that lasted from the opening bell to the last, Vikingo was declared the winner.
Vikingo has taken the entire wrestling world by storm and has been on an incredible United States indie tour, allowing fans to get an up-close and personal look at the AAA champion. Fans will get another chance to see Vikingo in Dreamwave, as he will challenge Gringo Loco on August 4th for the Dreamwave Wrestling Alternative Championship. I have a strong feeling that match will make its way into this column. 
If you have an independent wrestling match that you thinks deserves to make this list, comment below or let me know @NoAverageJoel on Twitter.