The Indie 52: Independent Matches That Matter June 23-30, 2023 
The world of independent professional wrestling is jam-packed with matches of all shapes, sizes, and colours. Every night of the week, promotions across the world run shows for audiences of all sizes, and literally, anything can happen. That level of unpredictability is why I love indie wrestling (and Indi Wrestling but that's another story) and why I want to spotlight some of the matches that I think other fans should check out. 
Dyln McKay vs. Marcus Mathers vs. Austin Luke | Doors, Ladders, and Chairs Match @ H20: The Last Generation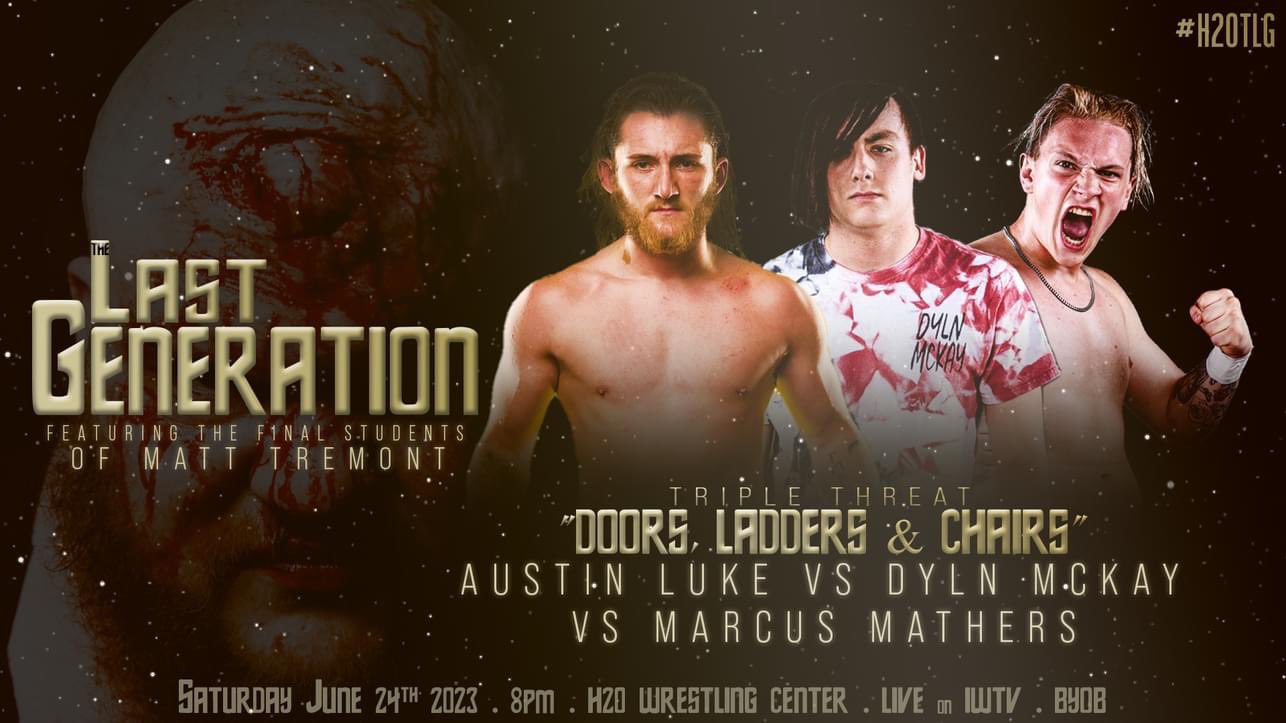 Winner: Austin Luke
Coming into this deeply personal triple-threat match, each competitor held a victory in a previous three-way, creating a 1-1-1 tie. Mathers, McKay, and Luke each looked to prove their place at the top, giving one another massive shot after massive shot, but there was a clear level of competitive respect amongst all match long. This rubber match was clearly important to all three young and prodigious talents involved, translating into a thrilling and chilling experience.
After a series of impressive manoeuvres by the trio, things got extreme. The ladder-based offence kicked off the hardcore portion of the fun, including Mathers getting a nasty back-body drop into a ladder bridge by Luke. Austin was able to control the match early, as the former H20 Champion displayed excellent tenacity and aggressiveness. 
The close bond of the men translated to an expertly worked match. McKay and Mathers are frequent tag team partners, and all three competitors came into the indies together. The two partners did not hold back whatsoever in this face-off, as they hit each other with the same vigour and violence as they did to Austin. Mathers nearly picked up the victory after power bombing his partner McKay into a duo of chairs, but there was still plenty of action to come. 
The final chapter of the contest began with McKay nearly destroying Luke with a top-rope Assault Driver through the first door of the night. This may have been enough for a win, if not for a Mathers' 450 splash to break up the pin. 
Marcus then went to work interior decorating, creating a spooky-looking door ladder chair double bridge monstrosity. McKay and Mathers bravely climbed to the top of the tallest ladder, and Mathers was then taken out by his creation, Luke rejoined the battle, delivering a pair of Go To Sleep kicks to McKay, enough to secure a memorable win. 
After putting their bodies through an unforgettable and undeniable war, Austin, Dyln and Marcus cleared their battlefield wreckage, and embraced each other with hugs and even a few smooches. The future is bright in the hands of incredible talent like Mathers, McKay, and Luke.
Allie Katch vs. Jody Threat | No Disqualification Match @ Smash Wrestling & Femmes Fatales: Girls Next Door 
Winner: Jody Threat
Two of the most popular and powerful women in wrestling collided in this memorable main event. The former tag team partners clearly knew one another well, exchanging sentiments of love before simultaneously exiting the ring to grab a table. This was the start of the weaponry used in the contest, but certainly not the last.
Threat lived up to her "Wild Child" moniker, decorating the ring with toys, including a metal baseball bat and chairs. Threat delivered a series of nasty suplexes to Katch and continued her attack by splashing Allie through a door bridge. This just seemed to fire up one-half of Bussy, who sent Jody through another door with a Death Valley Driver in the corner. Katch then decided to stockpile as many chairs in the middle of the ring as possible, which would ultimately lead to her downfall. Jody won the friendly and violent contest with an F5 to Katch onto the chair pile, sending fans home happy with a fun main event and a great day of professional wrestling. 
This entire Smash Wrestling x Femmes Fatales co-produced event was a triumph of women's wrestling, showcasing some of the best Canadian and American wrestlers in the world. Other highlights from the event, now available to stream on IWTV, included Trish Adora vs. Vanessa Kraven as well as championship bouts between Alexia Nicole vs. Nicole Matthews and Vert Vixen vs. Mercedes Martinez.  
If you have an independent wrestling match that you thinks deserves to make this list, comment below or let me know @NoAverageJoel on Twitter.