Found footage is a cinematic technique in which all or a substantial part of the work is presented as if it were discovered through film or video recordings. The events on screen are typically seen through the camera of one or more of the characters involved, often accompanied by their real-time, off-camera commentary. For added realism, the cinematography may be done by the actors themselves as they perform, and shaky camera work and naturalistic acting are routinely employed. The footage may be presented as if it were "raw" and complete or as if it had been edited into a narrative by those who "found" it.
Some of the most successful and well-received horror films in recent years have been in the found footage genre. On the same token, some of the most disturbing films have also been part of this unique genre. Sure, the use of found footage has been worn to the ground over the last twenty or so years but there are still some damn good films out there that use the style to great effect.
Whether you're a fan of the film style or not you cannot deny this fact. So today, instead of a top 5 like I usually do, I will do a top 15 for Found Footage Horror Films. Let's dive right into the list and as always, it's my opinion so do with it what you will.
#15. Afflicted (2013)
Two best friends see their trip of a lifetime take a dark turn when one of them is struck by a mysterious affliction. Now, in a foreign land, they race to uncover the source before it consumes him completely.
Afflicted is a 2013 Canadian found footage horror film written and directed by Derek Lee and Clif Prowse. Their feature film directorial debut, had its world premiere on September 9, 2013, at the Toronto International Film Festival, where it won a special jury citation for Best Canadian First Feature Film. Lee and Prowse star as two friends whose goal to film themselves travelling the world is cut short when one of them contracts a mysterious disease.
Giving you a unique take on the found footage genre of films, Afflicted enters today at number 15. When I watched this movie for the first time, I was surprised at how well-acted the film was. It was almost believable that it could be a real found footage film which is rare. I love Afflicted, it's a unique film for two popular genres. Obviously, I won't spoil anything, but I cannot recommend this underrated gem enough. If you can get through the slow start and keep watching, you'll be rewarded with one fantastic ride.
#14. Lake Mungo (2008)
Alice drowns while swimming and her family begins experiencing inexplicable events in their home. The family hires a parapsychologist whose investigation unveils Alice's secret double life and leads them all to Lake Mungo.
Lake Mungo is a 2008 Australian psychological horror film written and directed by Joel Anderson and starring Talia Zucker and Martin Sharpe. It employs mockumentary-style storytelling with found footage and docufiction elements, using actor "interviewees" to present the narrative of a family trying to come to terms with the drowning death of their daughter, and the potentially supernatural events they experience after it.
With a whopping 98% on Rotten Tomatoes and 6.3/10 stars on IMDB, Lake Mungo is easily one of the most under-viewed and underrated films I've ever encountered. At its heart is the story of a grieving family trying to accept what happened to their daughter. It can be gut-wrenching at times and if you pay attention, you might catch ghostly things in the background. This is a must-watch in my opinion. Don't go into it thinking you're gonna be in for a million jump scares or a wild ride. It's deeper than that and it's a better film for it.
#13. As Above, So Below (2014)
When a team of explorers venture into the catacombs that lie beneath the streets of Paris, they uncover the dark secret that lies within this city of the dead.
As Above, So Below is a 2014 American horror film written and directed by John Erick Dowdle and co-written by his brother Drew. The title refers to the popular paraphrase of the second verse of the Emerald Tablet. It is presented as found footage of a documentary crew's experience exploring the Catacombs of Paris and was loosely based on the nine circles of Hell.
An underappreciated film in my opinion, As Above So Below is a divisive film for most people. A lot of people seem to dislike the film, given all the negative reviews out there for it. Me, I actually enjoyed the film. It's unique in that it takes the trip into the Catacombs of Paris and it's a fun story to follow along.
Something I preach when it comes to movies is to go in with the lowest expectations possible, you'll either love the film as it exceeded your idea of it or you'll think it was as bad as you expected. Just go into it with an open mind folks, it's better than you think.
#12. Paranormal Activity (2007)
After moving into a suburban home, a couple becomes increasingly disturbed by a nightly demonic presence.
Paranormal Activity is a 2007 American supernatural horror film produced, written, directed, photographed and edited by Oren Peli. It centres on a young couple (Katie Featherston and Micah Sloat) who are haunted by a supernatural presence inside their home. They then set up a camera to document what is haunting them. The film uses found-footage conventions that were mirrored in the later films of the series.
Admittedly, I am not the biggest fan of Paranormal Activity. For me, there isn't enough going on the films to warrant the following that they have. That said, I cannot deny what the series has done for the horror genre. Thanks to this film series, seven in total, horror got a kick in the pants that it desperately needed and it turned a whole new generation onto the joys of horror films. Whether you love it or hate it, Paranormal Activity does deserve credit for reinvigorating horror films.
#11. V/H/S (2012)
When a group of misfits are hired by an unknown third party to burglarize a desolate house and acquire a rare VHS tape, they discover more found footage than they bargained for.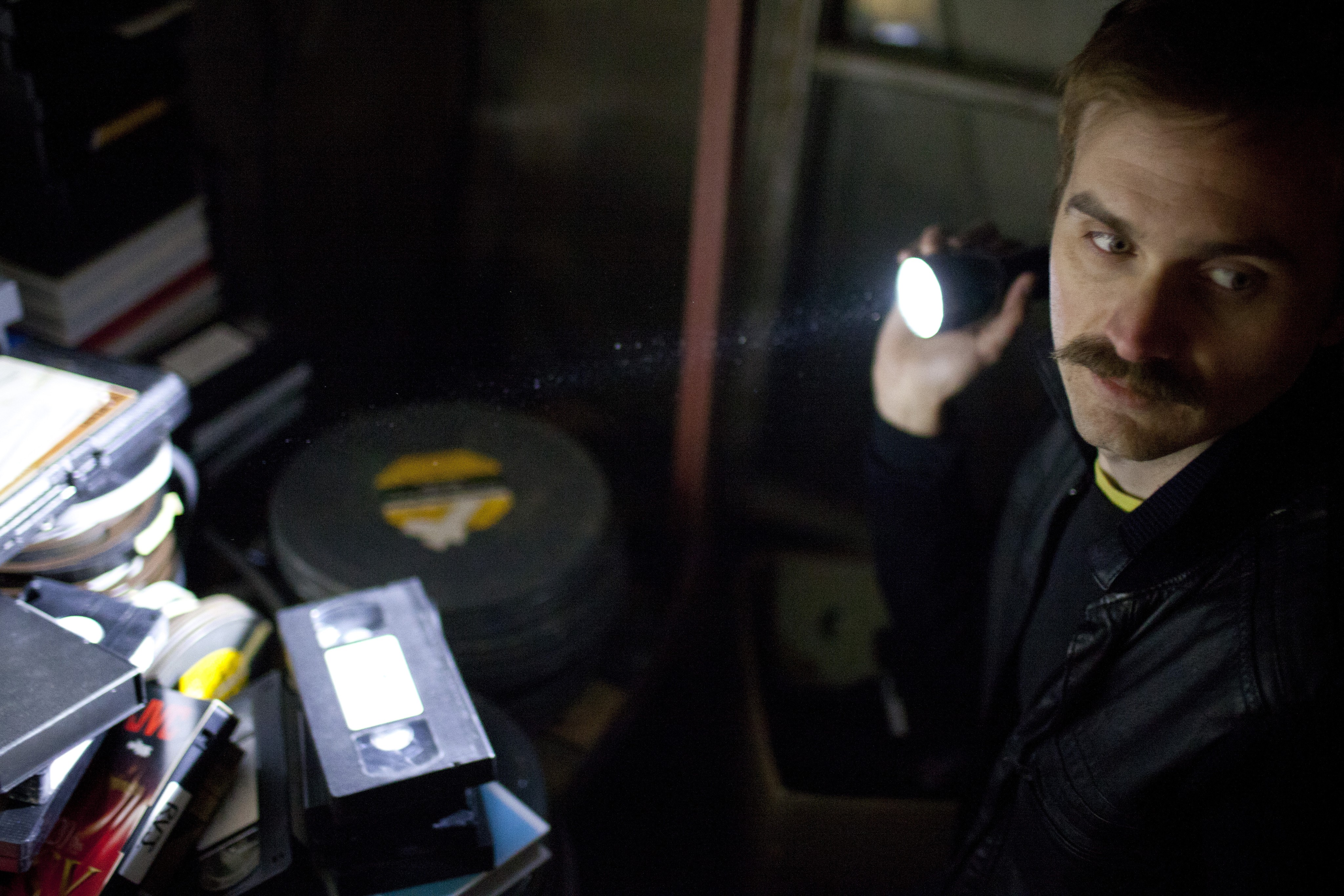 V/H/S is a 2012 American found footage horror anthology film and the first instalment in the V/H/S franchise created by Brad Miska and Bloody Disgusting and produced by Miska and Roxanne Benjamin. It features a series of found footage shorts written and directed by Adam Wingard, David Bruckner, Ti West, Glenn McQuaid, Joe Swanberg, and the filmmaking collective Radio Silence.
Man where do I even begin with this one? V/H/S is one hell of an anthology film that incorporates the found footage style in a very unique and sometimes terrifying way. Much like Paranormal Activity, V/H/S deserves its kudos for being a unique vision and something that reinvigorated horror for fans. Sure it's not the highest-rated film out there but you cannot deny that the series and film is a fun ride for hardcore horror fans like me. I love each film in the series and I think they all should be given a chance to shine. Check them out, folks.
#10. Noroi: The Curse (2005)
A documentary filmmaker explores seemingly unrelated paranormal incidents connected by the legend of an ancient demon called the "kagutaba."
Noroi: The Curse (ノロイ, Noroi) is a 2005 Japanese horror film directed and co-written by Kōji Shiraishi. It stars Jin Muraki as Masafumi Kobayashi, a paranormal researcher investigating a series of mysterious events for a documentary.
The film employs a pseudo-documentary style of storytelling and utilizes found footage conventions, with the majority of the narrative being presented as if it were Kobayashi's documentary, made up of footage recorded by Kobayashi's cameraman. The film's cast also includes actress Marika Matsumoto, who plays a fictionalized version of herself, as well as Rio Kanno, Tomono Kuga, and Satoru Jitsunashi.
Noroi is a remarkably intricate mockumentary about a journalist investigating a series of strange occurrences linked to a folk demon called Kagutaba. In fact, it may be a little too intricate for its own good, and the stream of eccentric characters and disparate video clips threatens to overwhelm us viewers. But critically, Noroi manages to carefully build the creepiness factor and unleash some truly hair-raising scares when the time is right.
Whether Noroi will scare the crap out of you or not is hard to predict, but there is little doubt that this is good stuff. Worth any horror fan's time.
#9. Creep (2014)
A young videographer answers an online ad for a one-day job in a remote town to record the last messages of a dying man. When he notices the man's odd behaviour, he starts to question his intentions.
Creep is a 2014 American found footage psychological horror film directed by Patrick Brice, his directorial debut, from a story by Brice and Mark Duplass, who both star in the film. Filmed as found footage, Brice portrays a videographer assigned to record an eccentric client, played by Duplass. Creep was inspired by Brice's experiences on Craigslist and the movies My Dinner with Andre, Misery, and Fatal Attraction.
If you like psychological thrillers and are fascinated by the human psyche this is for you. The thing is we don't like to be rude to people so when someone crosses your boundaries you tend to go with the flow to a certain extent. The videographer did what I would have done for the most part. It will make you question who you trust by the end. If Creep doesn't grab you in the first 5 minutes then it probably isn't for you. But if you like it as much as I did, you'll check out Creep 2 as well. Go on, do it. I dare you.
#8. Gonjiam: Haunted Asylum (2018)
The crew of a horror web series travels to an abandoned asylum for a live broadcast. It soon encounters much more than expected as it moves deeper inside the nightmarish old building.
Gonjiam: Haunted Asylum (Korean: 곤지암; Hanja: 昆池岩; RR: Gonjiam) is a 2018 South Korean found footage horror film directed by Jung Bum-shik. Based on a real-life psychiatric hospital of the same name, it stars Wi Ha-joon, Park Ji-hyun, Oh Ah-yeon, Moon Ye-won, Park Sung-hoon, Yoo Je-yoon and Lee Seung-wook in the lead roles. The narrative centres around a horror web series crew that travels to an abandoned asylum for a live broadcast in order to garner views and publicity.
The movie is about a bunch of young adults who sneak into an abandoned haunted asylum to try and open a deeply haunted room known as Room 402. They do this in order to get a lot of views for their live stream of proving paranormal activity in the asylum and make a lot of money in the process through ad revenue.
The story wasn't bad, but it is a touch predictable. For most, however, the story is not the selling point of horror films. The creep factor was stellar, the direction made near-perfect use of the recording/live-stream gimmick, and the sense of dread and mystery kept the audience hooked when things started getting interesting.
#7. The Poughkeepsie Tapes (2007)
In an abandoned house in Poughkeepsie, New York murder investigators uncover hundreds of tapes showing decades of a serial killer's work.
The Poughkeepsie Tapes is a 2007 American pseudo-documentary horror film written, directed, edited, and co-developed by John Erick Dowdle. It is about the murders of a serial killer in Poughkeepsie, New York, told through interviews and footage from a cache of the killer's snuff films.
The Poughkeepsie Tapes was an underground film for so long. It was purchased by a studio and they didn't know what to do with it. The filmmakers couldn't talk about it and the movie became an urban legend of shorts with poor copies available on the internet. However, it is finally out and worth a watch.
This is one of the most brutal horror movies out there. It's like you are watching a bunch of tapes from a serial killer. There isn't much plot it's more about going through the different scary scenes of people getting tortured and killed.
#6. Incantation (2022)
Six years ago, Li Ronan was cursed after breaking a religious taboo. Now, she must protect her daughter from the consequences of her actions.
Incantation (Chinese: 咒; pinyin: Zhòu) is a 2022 Taiwanese-found footage supernatural horror film directed by Kevin Ko, who also co-wrote the screenplay with Chang Che-wei. The film was released in Taiwan on March 18, 2022, and it became the highest-grossing Taiwanese horror film. It received international distribution from Netflix on July 8, 2022, where, to my knowledge, it is still available.
Tsai Hsuan-yen 5my heart to pieces with her portrayal of Rohan, a loving, doting, and genuinely terrified mother trying to save Her daughter, Dodo (played by a remarkably adorable Huang Sin-ting) from the grips of a spirit that she doesn't really understand. I'm not the biggest fan of found footage films that have non-linear plots, but this one made up for the jumping around by interspersing irresistibly intriguing scenes of supernatural activity with equally moving scenes featuring Dodo and Rohan bonding and becoming closer.
It's rare that movies make you feel so much genuine unease and despair. There are few real "scares" in this movie, but the tension of the non-linear plot really keeps you invested in getting to the bottom of the mystery. I couldn't recommend this movie enough, honestly. It might not be the scariest horror film that I've ever seen, but it's still fantastic and I thoroughly enjoyed myself the entire time I was watching.
#5. The Blair Witch Project (1999)
Three film students vanish after travelling into a Maryland forest to film a documentary on the local Blair Witch legend, leaving only their footage behind.
The Blair Witch Project is a 1999 American supernatural horror film written, directed and edited by Daniel Myrick and Eduardo Sánchez. It is a fictional story of three student filmmakers—Heather Donahue, Michael C. Williams, and Joshua Leonard—who hike into the Black Hills near Burkittsville, Maryland, in 1994 to film a documentary about a local myth known as the Blair Witch. The three disappear, but their equipment and footage are discovered a year later. The purportedly "found footage" is the movie the viewer sees.
Credited by many as the film that started it all (it isn't), The Blair Witch Project will probably go down as one of the most infamous found-footage horror films in history. From creating its own legend to presenting itself as a true-found footage film, The Blair Witch Project stands alone despite two horrible sequels. For how old the film is, it still stands on its own all these years later.
I don't know anyone who hasn't seen BWP, but for any of you that hasn't, what are you waiting for? Forget Book of Shadows, forget Blair Witch, watch the original film and enjoy this disturbing, atmospheric horror masterpiece.
#4. Cannibal Holocaust (1980)
Synopsis: During a rescue mission into the Amazon rainforest, a professor stumbles across a lost film shot by a missing documentary crew.
Cannibal Holocaust is a 1980 Italian cannibal film directed by Ruggero Deodato and written by Gianfranco Clerici. It stars Robert Kerman as Harold Monroe, an anthropologist from New York University who leads a rescue team into the Amazon rainforest to locate a crew of filmmakers. Played by Carl Gabriel Yorke, Francesca Ciardi, Perry Pirkkanen, and Luca Barbareschi, the crew had gone missing while filming a documentary on local cannibal tribes.
When the rescue team is only able to recover the crew's lost cans of film, an American television station wishes to broadcast the footage as a sensationalized television special. Upon viewing the reels, Monroe is appalled by the team's actions and objects to the station's intent to air the documentary.
Perhaps the most controversial film of all time and the progenitor of modern-day found footage horror, Cannibal Holocaust is more than 40 years old and still stands the test of time. Since its original release, Cannibal Holocaust has been the target of censorship by moral and animal activists. Other than graphic gore, the film contains several scenes of sexual violence and genuine cruelty to animals, issues which find Cannibal Holocaust in the midst of controversy to this day.
Due to this notoriety, Cannibal Holocaust has been marketed as having been banned in over 50 countries. This film is not for the faint of heart or for those easily disturbed. If an entire government can be convinced that this is a snuff film, it's one that you need to check out.
#3. Hell House LLC (2015)
Five years after an unexplained malfunction causes the death of 15 tour-goers and staff on the opening night of a Halloween haunted house tour, a documentary crew travels back to the scene of the tragedy to find out what really happened.
Hell House LLC is a 2015 American found-footage horror film written and directed by Stephen Cognetti and produced by Fbi Films. The film shot as a documentary, follows a group of Halloween haunted house creators as they prepare for the 2009 opening of their popular haunted attraction, Hell House. Tragedy strikes on opening night when an unknown "malfunction" causes the death of 15 tour-goers and staff. The film reveals the lead-up to the tragedy and documents what exactly went wrong that night which has been a mystery to the public.
A unique take on the found footage genre, this film is the first in a decent trilogy but the original is the high point in my opinion. A fun, wild ride from start to finish, you never really know where this one is going to take things. I kept guessing several times and when things started to escalate, you could feel the tension and fear from the main actors. I love Hell House LLC and I recommend it to everyone who loves horror like I do. The film didn't scare me, not many actually do, but it is still a great movie and very ambitious for what it was.
#2. Megan is Missing (2011)
Based on research into seven actual cases of child abduction, MEGAN IS MISSING is an uncompromising, gut-wrenching view of the world children live in today. Harrowing in its realism, the film uses only fact-based incidences to depict the lives of ordinary kids walking in the midst of extraordinary evil.
Megan Is Missing is a 2011 American found-footage psychological horror film written, directed, edited, and co-produced by Michael Goi. The film revolves around the days leading up to the disappearance of Megan Stewart (Rachel Quinn), a popular high school student in North Hollywood who decided to meet up with a boy she was interacting with online, and the subsequent investigation launched by her best friend 1Herman (Amber Perkins). Goi based the film on a series of real-life cases of child abduction. Marc Klaas, the founder of KlaasKids Foundation, notably endorsed the film.
Jesus where do I even begin with one? Without a doubt, this is one of the most disturbing films I have ever seen, maybe even at the top of that list. I found this film more disturbing than Jack Ketchum's Girl Next Door, A Serbian Film and even Salo so take that for what you will. I'm not going to ramble on about this one and instead I'll leave you with this. Goi himself issued a trigger warning for prospective viewers:
"Do not watch the movie in the middle of the night. Do not watch the movie alone. And if you see the words 'photo number one' pop up on your screen, you have about four seconds to shut off the movie if you're already kind of freaking out before you start seeing things that maybe you don't want to see".
#1. [•REC] (2007)
A television reporter and cameraman follow emergency workers into a dark apartment building and are quickly locked inside with something terrifying.
Rec is a 2007 Spanish-found footage horror film co-written and directed by Jaume Balagueró and Paco Plaza. The film stars Manuela Velasco as a reporter who, with her cameraman, accompanies a group of firefighters on an emergency call to an apartment building to discover an infection spreading inside, with the building being sealed up and all occupants ordered to follow a strict quarantine.
This movie is the sort of movie that picks you up by the neck and drops you right in the middle of the excitement – literally. The way the movie is shot with the camera is amazing. It is like you are there yourself, being a part of that horrible experience of being boxed inside a relatively small area and being stalked by crazed infected people.
The scenery and sets brought life to the movie. It was so dark and brooding, that it totally made the screen come alive with a sense of dread and enclosing doom. It all came together for a good sense of claustrophobia and hopelessness. Easily, Rec is my pick for the best found footage horror film and it's not even close. Watch the entire series, you won't regret it.