Charlotte Flair And The Myth Of The Difficult Woman
Charlotte Flair has been branded a "difficult" woman since her appearance on the 22nd October 2021 episode of SmackDown, but is she?
It is well known that when Vince isn't happy with you then stories get leaked, to decrease your value to the audience and to those who may want to sign you upon your release. The most recent story to come out involved Bray Wyatt and how he was difficult to work with backstage. All the while, the rumor mill was on fire with talk of his potential signing to AEW or IMPACT and the value he would bring to either of those companies.
The likes of Sami Zayn, Sasha Banks, Zelina Vega, Lio Rush, and Jon Moxley have been called difficult in recent years by WWE insiders. Vince is known to be petty, even to those who made him money and were top draws for his company. Examples such as not allowing The Rock to use his in-ring name after going to Hollywood for several years and his treatment of both Hulk Hogan and Bret Hart on their way out the door and after.
If you obey all the rules, you miss all the fun

Katharine Hepburn
But what is the problem with knowing your worth? Or knowing your character so well that you are willing to fight and appear difficult to maintain that integrity? And why is this character assassination happening right now and at such an alarming rate?
Deconstructing the Myth of the "Difficult" Woman
The idea of the difficult woman goes hand in hand with the idea of the "mad" woman, the angry woman, and the crazy ex-girlfriend. What I'm saying is that it's not like these things don't exist —- women are multifaceted and are allowed to be all these things, but there is an inherent hint of misogyny surrounding these ideas and concepts. Women are always perceived as too emotional and this is still the case, if they choose to stand up for themselves, ideas, and values they are also branded difficult or angry if they displease a man they are branded as mad or even presented as the crazy ex-girlfriend.
Women like hunting witches too, doing their dirtiest work for you

Taylor Swift, Mad Woman
This has been seen throughout history in sports, business and the entertainment industry while men with the same behaviors are heralded as pioneers or ruthless and smart businessmen. This conversation needs to keep being had and it seems that people are finally listening but not in huge numbers, outside of feminist writers and academics, and the idea of the "difficult" woman seems to still be prevalent and a way to tear down strong women.
Charlotte Flair and her Sudden Character Assassination.
So here we are at the character assassination of Charlotte Flair that seems to have come out of nowhere. We need to look at the facts of the matter and how she has been perceived up until this point and where things suddenly went south for The Queen.
There were people in Charlotte Flair's circle that were privately pushing the idea of her trying to get out of her WWE deal, But realistically, no one expects that to actually happen

Mike Johnson, PWInsider
Leading up to the events of 22nd October 2021 Charlotte Flair has become an even colder character on our screens, yet behind the curtain she seems to be having success in her personal life, coming across as the happiest she has been in years. Yet her fiancé and father have all left WWE in the last year, with Andrade finding success in AAA and AEW while her father's antics being public knowledge because of Dark Side of the Ring has created unexpected turbulence within her life. But it has been clear for a while that Charlotte Flair isn't happy and it has been shown during her time on Monday Night RAW on many occasions over the last few months.
Being branded a difficult woman is negative, allowing for the public and peers to weigh in on her determination and ambition without really knowing the full story. She joins an endless list of women who have been vilified for knowing what she wants and not taking anyone's disrespect as the norm, including Elizabeth Taylor, Megan Fox, Betty Davis, Ruth Bader Ginsburg, Diana Vreeland, and Carrie Fisher.
The negativity she is experiencing online is inherently misogynistic with men and some women weighing in with their opinions on her mental state, her ego, and supposed ruthlessness behind the scenes. This creates the narrative of the "mad" woman, a woman who is isolating herself and acting a certain way because she is mad or in a vulnerable mental state, I have been accused of this myself, despite many people saying they love working with her and Charlotte herself making comments recently about the other women in the division that was positive. Her appearance on Renee Paquette's podcast, Oral Sessions, during SummerSlam weekend doesn't quite add up with the narrative that is currently being spun by supposed insiders and the internet wrestling community.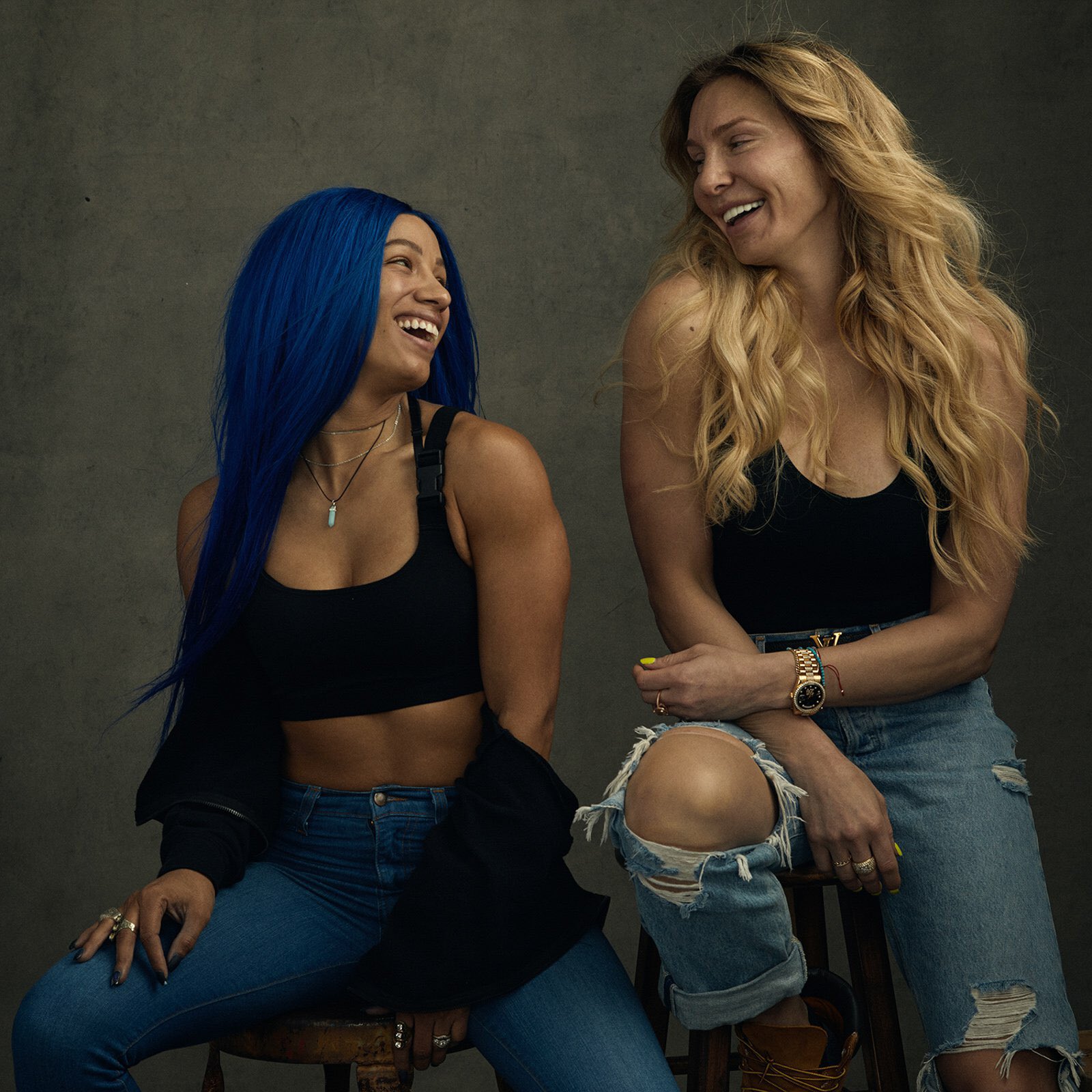 How true are these stories? We have seen it before with claims of the likes of Sami Zayn and Jon Moxley being difficult to work with backstage. We saw reports back in 2019 that painted a picture of Sasha Banks and Bayley as being whiney children when they lost their WWE Women's Tag Team Championships, while both received a lot of hate online for this Banks received the brunt of it. She was off of TV for over three months and as it turned out all the rumors were false, what was happening was Sasha Banks had taken time off to focus on her mental health that had got to the point that the one thing she loved wasn't fulfilling her or making her happy anymore.
More and more stories of Charlotte Flair's attitude are being reviled by the day but with that her unhappiness of the way the women's division is presented. Rumors persist that the reason for her displeasure at the title swap angle with Becky Lynch stems from her not looking weak in her championship reign. I agree, there is nothing worse than seeing championships just swapped as if they mean nothing and if new reports are true, Charlotte was well within her right to voice her concerns. Flair wanted to drop the RAW Women's Championship to Bianca Belair before leaving for Smackdown and in retrospect that should have happened, with Sasha Banks winning at Crown Jewel. This would have cleared the slate and made things smoother for the women's division on both brands.
A difficult woman isn't a bitch, although on occasion she might be. She isn't cruel or selfish or mean – although, again, on occasion, she might be. Just like anyone (by which I mean men), she has bad days, she makes mistakes, she loses her temper. A difficult woman is a woman who insists on inhabiting the full range of her humanity

Karen Karbo, In Praise of Difficult Women
Along with all of this we have seen Charlotte flip off the fans at the start of her match against Rhea Ripley, the fans wanted Becky Lynch, which in hindsight is disrespectful to the two women inside the ring. Charlotte Flair and Nia Jax were the talk of the wrestling community after their match on an episode of Monday Night RAW turned into a shoot fight, but it is understandable that Flair would be apprehensive with Jax in the ring with her, she is rumored to have injured multiple opponents and if something doesn't feel right why would you risk your own safety. All of these things probably haven't endeared Flair to her peers or the higher-ups at WWE, but Sasha Banks mentioned Charlotte as one of three women she would like to face at WrestleMania next year. Maybe Banks and Flair are just kindred spirits, and both having been vilified for their ambition and determination, seem to be sticking together.
Only time will tell on this one, but whatever happens to The Queen, Charlotte Flair, she will succeed, and she will always outwork everyone.