It's been 20 years since the UK has had a PPV and 30 years since a huge stadium show but will it live up to the hype? Clash At The Castle delivered on many fronts but I'm here to talk about the best looks of the night.
WTF Moment Of Clash At the Castle
Byron Saxton and Corey Graves look like a couple of red coats, for those who don't know that is what the entertainers wear at Butlins. I really hope the Butlin's reference was fully intentional but it was also really funny to see. I understand the red is meant to represent Wales but that's not how it's coming off. Where are your daffodils at lads?
Now let's move on to the best looks of the night.
#6. Gunther Reunites IMPERIUM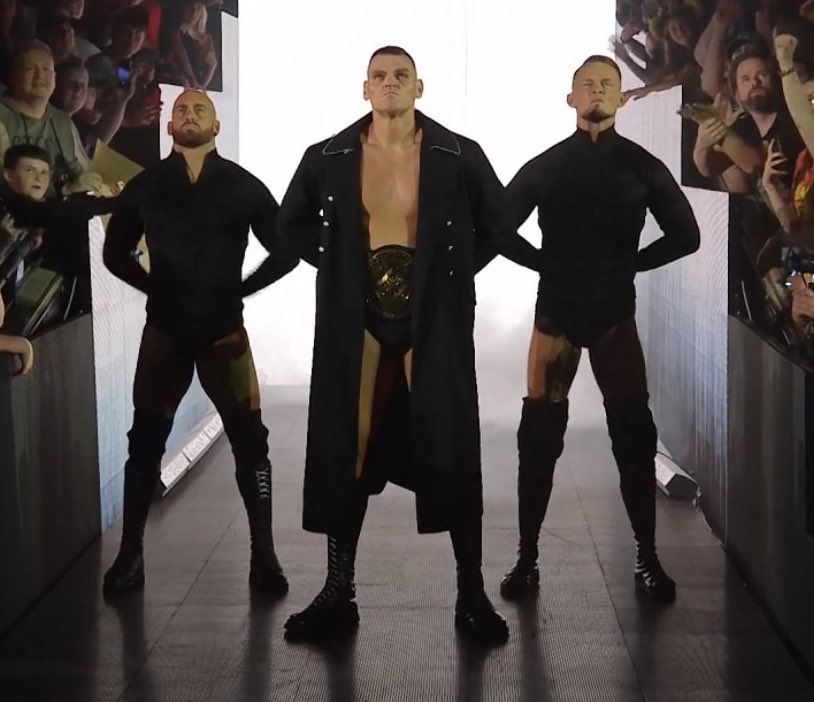 IMPERIUM is back and dressed in black once again. After what seems like a very long time of seeing Gunther and then Kaiser Ludwig in red it was great to see them back in black. Imperium is forever as they say and the former Fabian Aichner is back in the fold, now known as Giovanni Vinci, that's going to take a while to get used to. The only downside is they don't have their old theme but seeing the trio back together in the way we all remember was one of my favorite moments of the night.
#5. Bliss, Asuka, and Belair Bring The Fun
The team of Bianca Belair, Alexa Bliss, and Asuka looked absolutely stunning together at Clash At The Castle, all sporting pink in their colour schemes. First, let's look at Binaca Belair who chose to go bright and pastel in sequin and metallic material with her gear, using pink and blue, which have a hint of lilac, to perfectly enhance her skin tone. The big sequin bow on top of her head is a lovely added touch.
Next, we have Alexa Bliss bringing back her old pink and blue look but with an edge that has been missed for a while. The Goddess of WWE has been lost in the shuffle for a while and despite my loving her more gothic look the storylines and matches were not up to the quality we are used to, what she has needed for a while was going back to her roots. No, not her NXT fairy look, but the woman she transformed into when managing Blake & Murphy and her first few years on the main roaster.
There is also some red, which is on the lacing of her gear, to connect her to Asuka. The Empress Of Tomorrow comes out with her vibrant hair and jacket, underneath she is in a deep blue and red, the red has a pink tinge to it connecting it to the rest of her team. The pure lovable babyfaces in their bright gear are a great contrast to the ladies of Damage Control.
#4. Matt Riddle, NO, I Am Patrick
Matt Riddle is sporting Patrick Star-inspired gear and I love it. From the bright green background to the purple flour pattern this look feels very reminiscent of our favorite cartoon character that lives under a rock. This seems like a very calculated look from the King of Bros, whose character is often comedy fodder with his stoner persona. It's not really a persona, he really does love the smoke. But with Riddle, he is always underestimated because he is so happy-go-lucky, always playing the fool, and by feeding into that his hard-hitting style is always a surprise, that he won't take any disrespect, even while dressed like a character from Spongebob Squarepants.
#3. Damage Control: Support your Local Girl Gang
Damage Control, that's the team of IYO SKY, Dakota Kai, and Bayley, look great together. All three are sporting a black and white color scheme, with slight variations, as if to show they are both light and dark. Their gear also has accents of gold, as if referencing the trios' championship aspirations. This is also the color scheme that Bayley picked for herself for a while during her initial heel run. All three of them retain their individual style while still looking like a fearsome team.
#2. Liv Morgan: Fire Can Not Kill A Dragon
Liv Morgan is in an all-white look tonight. At first, I thought it could be an Emma Frost-inspired look as she has given us Black Cat before but if you inspect her Instagram a little deeper you will see that in fact, she is the mother of dragons. This is very fitting with the theme of the night here in Cardiff, Dragons pop up a lot during Clash At The Castle, take note of Edge's entrance jacket and mask, cause dragons are cool and the national animal of Wales. I know right, Dragon, national animal, the welsh are cool.
There is also a little nod to the Sensational Sherri's outfit from SummerSlam 92, yes the last big PPV on UK shores, from the white to the chains and cutouts. Simply perfection.
#1. Seth Rollins Channels the Rocketman
Seth Rollins is dressed as a devil, with wings and rocking that Elton John fit. This look and the inspiration behind it is absolutely perfect for the 'Drip King' Seth 'Frickin' Rollins. Who else is more flamboyant and out there than the man of many sunglasses, Elton John? As you can see below this look was heavily inspired by his portrayal in the biopic Rocketman, a great film that I highly recommend, and he even sported a big collar and flared trousers. Yes, Rollins is in flares, which is weird to see but makes so much sense for his character moving forward. As he descends into more manic madness of course his in-ring gear will evolve with him.