NORTH Wrestling has quietly built one of the most passionate and engaged crowds in the UK with their brand of wrestling and this show was another example of that quality. A bit of a smaller crowd than usual due in part to public transport issues and a clash with the Great North Run but the noise certainly wasn't dimmed. Our MC for the afternoon was Mike Angus, doing his usual great job of guiding us through the evening and engaging with the crowd. Let's get to the action.
Amir Jordan & Conor Renshaw vs Lou Nixon & Screwface Ahmed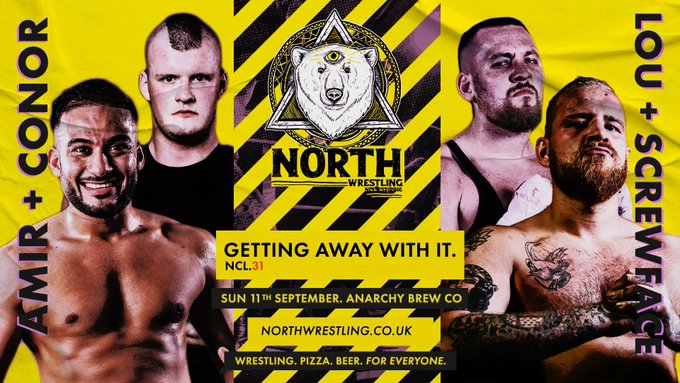 The opening match saw returning fan-favorite Amir Jordan make his first appearance since being released from NXT UK. And he got a suitably huge reaction from a crowd who clearly love him. His partner Conor Renshaw got the chance to show some personality as the initially tentative but soon enthusiastic, participant in Jordan's dancing. Opposite the two fan favorites were their exact opposites, two men who the crowd didn't hold back in their distaste for.
A fun match that played well off the opposing reactions both teams received. Renshaw and Jordan showed plenty of fire against Nixon and Screwface's viciousness and willingness to bend the rules. In the end, Screwface and Nixon picked up an underhanded victory that might put them in line for a tag title shot but Jordan in particular is back established in NORTH as he starts a new chapter of his career.
Session Moth Martina vs Zeo Knox
The announcement was just that one of British Wrestling's most magnetic personalities, Martina, would be appearing. Quite what she would be doing wasn't clear until she was interrupted by NORTH's resident Tory irritant Zeo Know. As you might expect the crowd was firmly against Knox and behind Martina, it would be hard to find two more contrasting characters after all.
These two gelled really well and gave more than what could quite easily have just been a simple comedy match. Martina has always been able to hold her own in the ring more than she gets credit for and Knox has the rare ability to wrestle in a shirt and slacks. Very enjoyable action.
We had a surprise appearance from Knox's old Landed Gentry cohort Benji, who tried to interfere on his old friend's behalf. This didn't work out for Knox though and Martina got the win. There was dissension between the two Tories post-match, which could signal an internecine feud for NORTH's least favorite duo.
Kid Lykos II vs Leon Slater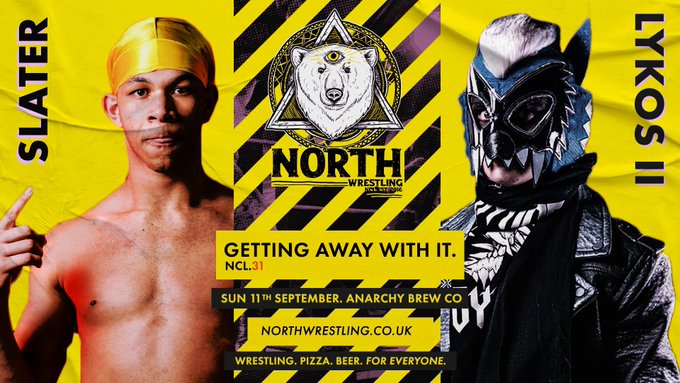 A showcase for two of the fastest rising young wrestlers in the UK, who know each other well, and are both Yorkshiremen, which is a plus point in our book. Slater is one-half of the tag team champions alongside Man Like DeReiss and has been regularly wowing crowds up and down the country with his apparent ability to be unaffected by gravity. And Lykos II is the exact kind of shit stirrer one would expect from someone representing the Lykos Gym, he rubs people up the wrong way in just the right way.
Entertaining as hell match between these two. Some of the things Slater does are jaw-dropping and Lykos II kept up with him all the way, showing plenty of his own skulduggery along the way. One suspects these two will have plenty of matches going forward but this one is well worth a watch because they will only get better and this was very good. Slater got the win.