The world of independent professional wrestling is jam-packed with matches of all shapes, sizes, and colours. Every night of the week, promotions across the world run shows for audiences of all sizes, and literally anything can happen. That level of unpredictability is why I love indy wrestling (and Indi Wrestling but that's another story) and why I want to spotlight some of the matches that I think other fans should check out. Here are some of my favourite independent wrestling matches from the week of January 8-15, 2023. 
*Winners are underlined
Axel Rico

(c)

vs. Jacob Fatu | CSW Heavyweight Championship Match | Chicago Style Wrestling: Season Premiere
The Samoan Werewolf, one of the dopest nicknames on the indie scene, Jacob Fatu was dominant early in this championship bout, powerbombing his prey into the turnbuckle and hitting a picture-perfect tope. Fatu is an incredible athlete, and one of the hottest free agents in all of wrestling. A member of the famed Anoa'i family, Fatu could easily join The Bloodline as another dangerous threat and fit right in. JFatu's strength and wrestling knowledge is incredible, making him a credible champion or contender anywhere in the wrestling world. It looked like Fatu would capture more gold with a pop-up Samoan drop followed by a top-rope splash, but Axel Rico was made of sterner stuff. 
One of my favourite Chicago-based wrestlers is the charismatic Rico. Rico normally delights in antagonizing the crowd to great effect, but in this hometown match, Axel was beloved. Rico became the CSW champion by defeating Joey Avalon, and began the promotion's new run on IWTV as the title holder. There are few tougher draws as your first defence than Jacob Fatu, but Rico was a valiant and cerebral fighter. Rico's big moment came by delivering on two dives to the outside, the first over the ropes and the second through the second and third. 
Rico was able to survive Fatu's best shots, and was able to walk away as champion. The match ended in a disqualification, as the group known as The Hate Keepers interrupted a fantastic title contest. Rico and Fatu fought off the dastardly interlopers, sending the crowd home happy, with Fatu protected and Rico the champ. 
Cono Cappuccia vs. Tommy Rant vs. Sal Savelli vs. Zagan Rivers vs. Adonis Stone vs. Tristen Thai | Riot Championship Ladder Match | Remarkable Wrestling: Skye is the Limit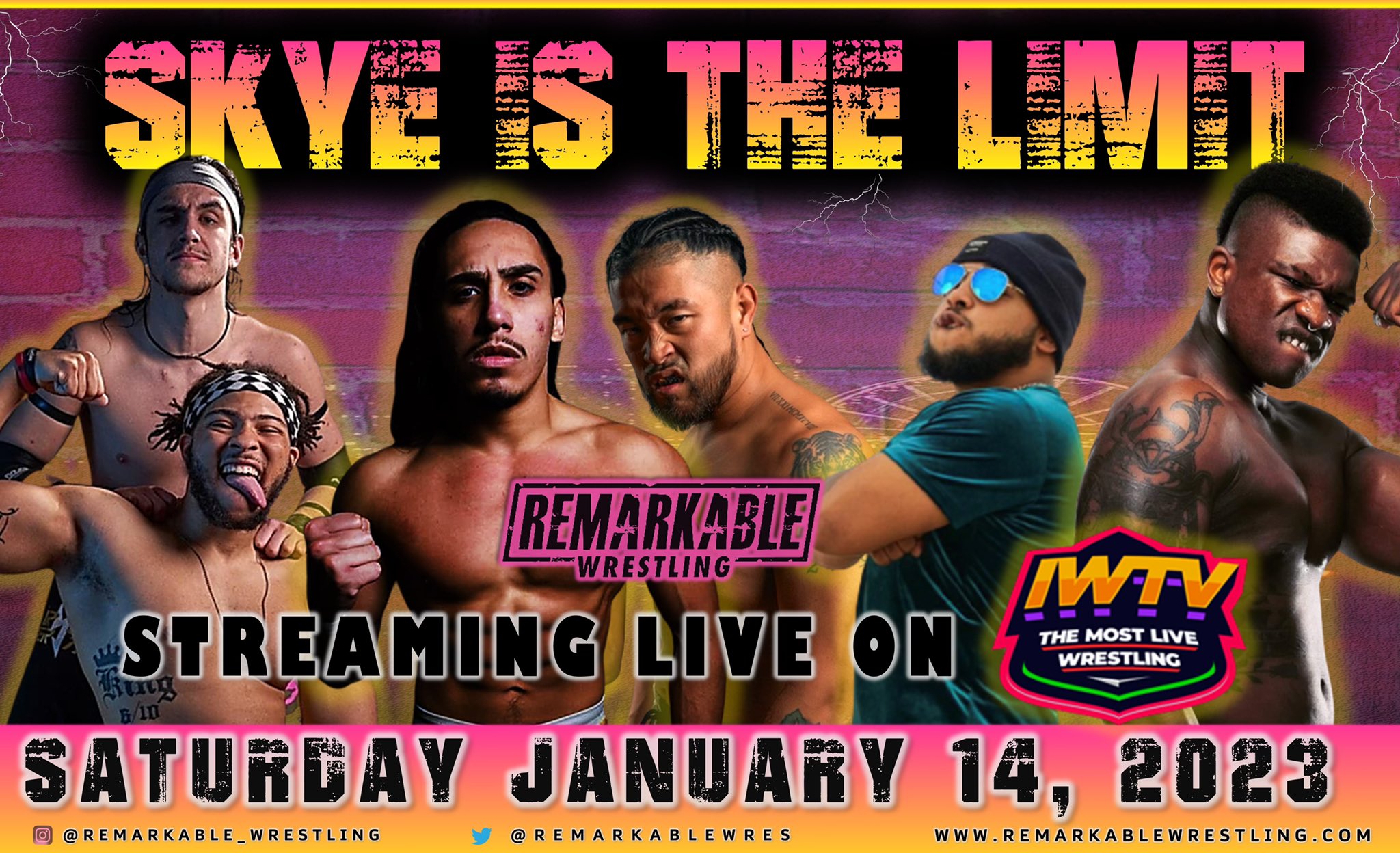 You know that a match is going to be fire when a skinny white dude comes out in a Britney Spears cutoff tee and starts kissing babies AKA the Cono Cappuccia special.
Coming into this match, I had very little knowledge of any of these fine wrestlers, but I was happy to be introduced to their unique skills and personalities in this bonkers ladder match. The grimy and thrilling attitude that defines this section of East Coast indie wrestling was strong in this match. Before any competitor laid a finger on one another, a total of four (4) uniquely designed and sized ladders and one (1) door were introduced to the match. They would not be the last.
Six-person matches are chaotic by nature, but adding the unforgiving steel of ladders brought this one to a different level. There were many jaw-dropping spots throughout this war of a match, including the gimp-masked mystery man Zagan Rivers, who looks like a mixture of Evil Uno and The Gimp from Pulp Fiction, sending fan-favourite Cappuccia through a chair and door bridge. Tommy Rant, who qualified for the title match earlier in the match, delivered a cutter off the ladder to Savelli, much to the crowd's delight who clearly despised Savelli. 
Tristen Thai was the star and winner of this match for me, delivering a flurry of kicks and fists, as well as plenty of ladder-based violence. Thai and his wrestling mentor Cappuccia dispatched Rivers by putting the masked man's head through a ladder rung, and then nailed him with chair shots to the side at the same damn time.
Thai and Cappuccia would continue to work together constructing, as the OG Kevin Gill declared it, a "monument to fuckery" tower of multiple ladders, doors and chairs. Master and student would eventually have to battle, resulting in Thai sending his teacher bouncing off the non-breaking door, and grabbing the belt hanging from the rafters.
Then something happened I did not expect. Dezmond Cole, an up-and-coming star of the East coast, cashed in a briefcase for a chance at the Riot Championship. After surviving a war, Thai had no chance against the fresher Cole who secured the easy title victory. Everything broke into chaos following the match, as Gabriel Skye, Miracle Generation, and others joined in to create an absolute fracas, and a future five-on-five match for the Remarkable promotion. 
Dezmond Cole will face Alec Price in a personally highly anticipated match on 1/21/23 for Limitless Wrestling.
If you have an independent wrestling match that you thinks deserves to make this list, comment below or let me know @NoAverageJoel on Twitter.
RIP Jay Briscoe: A Trailblazer of the Independent Wrestling Scene 
I was able to see The Briscoes three times during my still-new wrestling fandom, and the love and appreciation the crowd had for them was incredible. The wave of excitement that flowed through the building was unique, and both Mark and Jay more than delivered on that anticipation. There were wrestling fans, and then there were Briscoe fans.
Many people have developed a special connection with the Briscoes, and my heart goes out to all of Jay's many admirers. I pray that Jay's daughters who were involved in the tragic accident heal and feel the love that so many had for their father. I hope that Mark and the rest of the family are able to heal with time, and know that Jay was a true source of inspiration for many of us.