PEW: A Wonderful Night of Women's Wrestling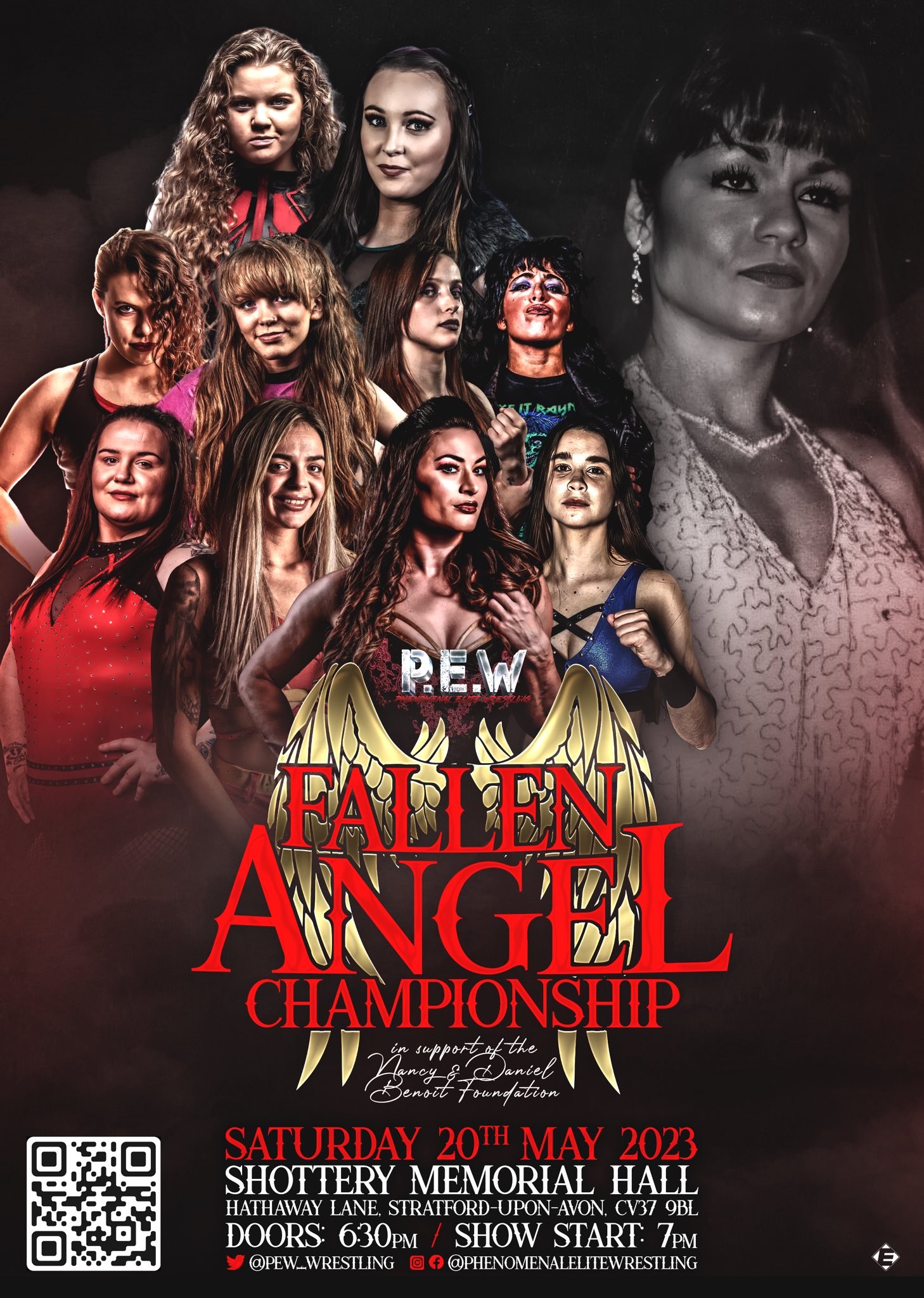 PEW are Phenomenal Elite Wrestling, a small wrestling promotion coming out of the historic city of Stratford-Upon Avon. They are a new promotion on the scene, established in 2022, but already have a very passionate fan base. Their shows are kid friendly and they even have a raffle, which I think makes any promotion that much better. This show is in support of The Nancy & Daniel Benoit Foundation, endorsed by her sister Sandra Toffoloni, and highlighters some of the best up-and-coming women's wrestlers this country has to offer.
The highlight is honestly the atmosphere and the kids in attendance. They were passionate and had some of the best insults that myself and WrestlingJebus have ever heard. It's promotions like this that make you realise that the independent scene here in the UK is thriving and offering fun nights out with elite talent and a real sense of community. We felt completely welcome and comfortable and if you get the chance go and see this promotion. Their next show is To Be or Not to Be, yes a great Shakespeare reference, taking place Saturday 10th June and you can get tickets here.
All ringside Images were taken by WrestlingJebus
Nancy Benoit: From Fallen Angel to Woman
Nancy Benoit might be known as the wife of Chris Benoit and even better known for the tragedy surrounding her death in 2007 but she is so much more than that. Nancy Toffoloni, as she was born, worked as a model before being spotted by Kevin Sullivan at the age of 20 and being convinced to join him as a valet/manager in the territories.
Her first character was the Fallen Angel who was a member of the Satanists, a group formed by Sullivan that included Luna Vachon, The Lock, the Purple Haze and Sir Oliver Humperdink. Her in-ring debut took place in Miami, Florida at Florida Championship Wrestling on 30th June 1984, she would also appear in ICW and Southwest Championship Wrestling. On 3rd August 1985, Nancy would wrestle in Hawaii for NWA Polynesian Wrestling losing via disqualification.
By the time she was signed to WCW, her character would evolve into Woman, who would be aligned with Kevin Sullivan, The Four Horsemen and her future third husband Chris Benoit. As well as appearing in WCW in the mid-1990s she also made a name for herself in ECW.
PEW: Fallen Angel Championship Tournament
The opening match and the first quarter-final sees fan favourite Lucy Sky face off against former NXTUK superstar Nina Samuels. Lucy Sky is the master of the Wig Wam Bam, when you know you know, and she is also a great talent inside of the squared circle but she definitely has a tough match ahead of her with the more experienced Nina Samuels. Her fisherman's suplex is out of this world and Sky works really hard to get the advantage over Samuels but unfortunately, she outsmarts her and gets the win.
Lizzy Evo Vs Artemis was an absolute war, I've known about these two for a while and seen clips of them but this was my first time seeing them live and I would gladly see them again. Lizzy Evo, for anyone who doesn't know, has a mean slap, she got my wrist instead of my hand during her entrance and it was red for the whole show. I feel for anyone that get's into the ring with her cause she is tough as nails.
Artemis is just as tough, which is understandable as her name comes from the Greek goddess of the hunt, and that's exactly what she was doing here. So many near falls but Lizzy Evo came out on top.
Kiya Vs Maya Matthews sees two young up-and-comers face off. The match starts off great, with some fantastic chain wrestling and you can see that both have the skills, if not being a little green. Don't let that dismiss them though cause they are both fantastic, Kiya looked like she could be a Powerpuff Girl or even a member of Totaly Spies, she is just so cool and cute, surrounded in hues of pink. Maya on the other hand gives me Paige/Saraya vibes and seems like a really tough girl. I can't wait to see what these two do in the coming years.
Unfortunately, Maya Matthews collided with Kiya which resulted in the match being called off, there was a lot of blood and it looked like Kiya may have lost a tooth. She was an absolute trooper and tougher than me, that's for sure. This was really sad as both women were doing really well and seemed to have other characters down, but these things happen. I and WrestlingJebus hope Kiya makes a speedy recovery and that Maya doesn't beat herself up about it.
Rayne Leverskusen Vs Leah Raven is a battle of the rockers with Rayne representing the Metal Heads and Leah representing the goth/emo kids. Yes, and that's just me talking about their characters, but you need to see both of these women inside of a ring if you see them advertised please go see them cause both are incredibly talented.
I found both women absolutely captivating and was rooting for both and the crowd seemed to feel the same way, their chemistry was great while they played up to the crowd and seemed to know how to counter each other at every turn. Rayne Leverskusen won this match via tap out and moved on to the next round but it was a close call.
During the intermission, which also included a raffle, it is revealed that Kiya wouldn't be medically cleared to compete or continue her match. This means that Maya Matthews will progress to the next round.
Semi-Final Matches: The Fallen Angel Championship
Lizzy Evo Vs Nina Samuels is an absolutely fantastic match that the crowd are really into as was I. As a Southerner, I was really torn as I love my girl Nina Samuels but Lizzy Evo winning would be such a feel-good moment, especially for the crowd who just love her. When this show heads onto YouTube you need to make sure you seek out this match as it is everything I love about pro wrestling, including a diabolical finish courtesy of Nina Samuels.
The fans in attendance hate this, especially the kids, who are just going crazy over Nina Samuels pinning their hero Lizzy Evo and getting the win via cheating. She uses the ropes as leverage and becomes the biggest heel in the promotion and she doesn't stop there, but we will talk about that in a bit.
Rayne Leverskusen Vs Maya Matthews is another barnburner of a match, you can tell Maya is a little nervous after what happened in her last match but it seems all those fears disappear as soon as she executes that move without a hitch. She is so thrilled she throws her fist into the air and gives an almighty scream which makes the audience cheer and applaud. The pair knock out counter after counter here and Maya could be a huge star in a few years if she keeps this up.
Rayne Leverskusen advances to the finals. The ladies shake hands and Maya leaves the ringside area but someone comes out from behind the curtain. It's Nina Samuels. She rushes to the ring and attacks Rayne, focusing on her knee, which has been an issue since the first match. Samuels wants to have the upper hand going into the final and she leaves in a sea of boos while Rayn struggles to her feet.
PEW Women's Championship Match | IVY Vs ZIZI
Ivy is the current Women's Champion in PEW, I have watched her over the last few years make a name for herself and develop her character online. I now have finally seen her in person, twice in one weekend might I add, and she is every bit the annoying villain she makes herself out to be. Ivy eats up the crowds' geers and their incessant chanting, including Karen and Cry-Vy, while throwing tantrums. If you wanna know my feeling on Ivy my recent tweet sums it up:
I got to watch her two nights in a row and she was absolutely outstanding both nights. An absolute powerhouse who makes you boo her at every opportunity while also secretly loving her at the same time. She deserves all the success

@BamInRealLife
I've never seen ZiZi before but I had it on good authority, from the lovely WrestlingJebus, that she is incredible and definitely one to watch. I have to say I was impressed, she is charismatic, is a pure baby face and oh she can go in the ring. She is also not afraid to take it to the outside of the ring and make those moments that people will be talking about long after they have left the building. This match was amazing with both women using everything in their skill set to get the upper hand, despite the crowd being fully behind ZiZi, Ivy retains her championship.
Fallen Angel Championship Tornement Final | Rayne Leverskusen Vs Nina Samuels
What a main event from there two highly talented women who appear at PEW regularly. Nina Samuels has cheated her way to the finals, yes she is impressive inside of the ring and doesn't need to use the ropes as leverage, or even attack her opponent before the match. She doesn't need to but she loves to do it and who is going to judge her for getting a leg up on the competition?
Speaking of legs, Rayne Leverskusen goes into this match with a very injured-looking leg/knee, hobbling down to the ring but still having the biggest smile on her face. This injury has plagued her through the whole tournament tonight and the attack from Samuels didn't help at all. That didn't stop her from fighting back at everything Samuels throw at her, including multiple attacks on her leg. Nina is smart and will always do whatever it takes to win. Despite all of that Rayne was the one to come out victorious and become the first holder of The Fallen Angel Championship Cup.
I'm definitely going to try and come back to this promotion in the future, it was lots of fun and the talent they have there is incredible. On to 'To Be or Not To Be' on June 10th where Rayne Leverskusen, who called out the current champion IVY, will be in a triple threat match alongside ZiZi for IVY's PEW Women's Championship belt.