All Out 2022: A Great Night In Chicago
All Out 2022 took place at the Now Arena in Chicago, Illinois, U.S.A. With 15 matches on the card, we were in for a long night, luckily four of those matches took place on the hour-long pre-show, known as Zero Hour, which you can find for free on YouTube. On the pre-show were three championship matches, AAA Intergender Tag Team Championship, FTW Championship, and AEW All-Atlantic Championship, and the second in a possible trilogy of matches between Tomohiro Ishii and Eddie Kingston.
On the main card of All Out 2022, we had grudge matches, the Casino Ladder match, and five championship matches. The championships defended were TBS Championship, AEW World Tag Team Championships, AEW World Women's Championship, and the AEW World Championship. The AEW World Trios Championships were also crowned after a month-long tournament.
Zero Hour Was A Bit Hit and Miss
The first match was a bit messy and saw Ortiz and Ruby Soho take on the AAA Intergender Tag Team Champions Sammy Guevara and Tay Melo. Ruby Soho was dropped on her head and neck by Sammy Guevara, it looked horrendous, and she also suffered a broken nose. We are all wishing her the best.
The second match was great, a perfect showing for HOOK as he retained his FTW Championship against one half of 2.0 'Cool Hand' Angelo Parker. Matt Menard was with Parker at ringside but despite losing in just under four minutes Parker did get some offense in.
The third match was even better than the last as we saw a returning Kip Sabian challenge for PAC's AEW All-Atlantic Championship. This match was fast-paced and was a great reintroduction to Sabian, who has been out for some time with an injury. I was sad to see PAC win, mainly cause it was Kip's first match back but hopefully the pair will get to face off once again.
The last match on Zero Hour was a match that was announced out of the blue and is the second match between these two behemoths of the wrestling world. Eddie Kingston and Tomohiro Ishii have both for a very long time been two of the best workers in whatever promotion they have stepped into and tonight, in their second meeting Kingston is out to prove himself against the Stone Pitbull. After hard chops, big power moves, and some scary-looking bumps, Eddie Kingston comes out victorious against Tomohiro Ishii. If you like big meaty men slapping meat, you need to get on YouTube and watch it now.
The Casino Ladder Match Opens All Out 2022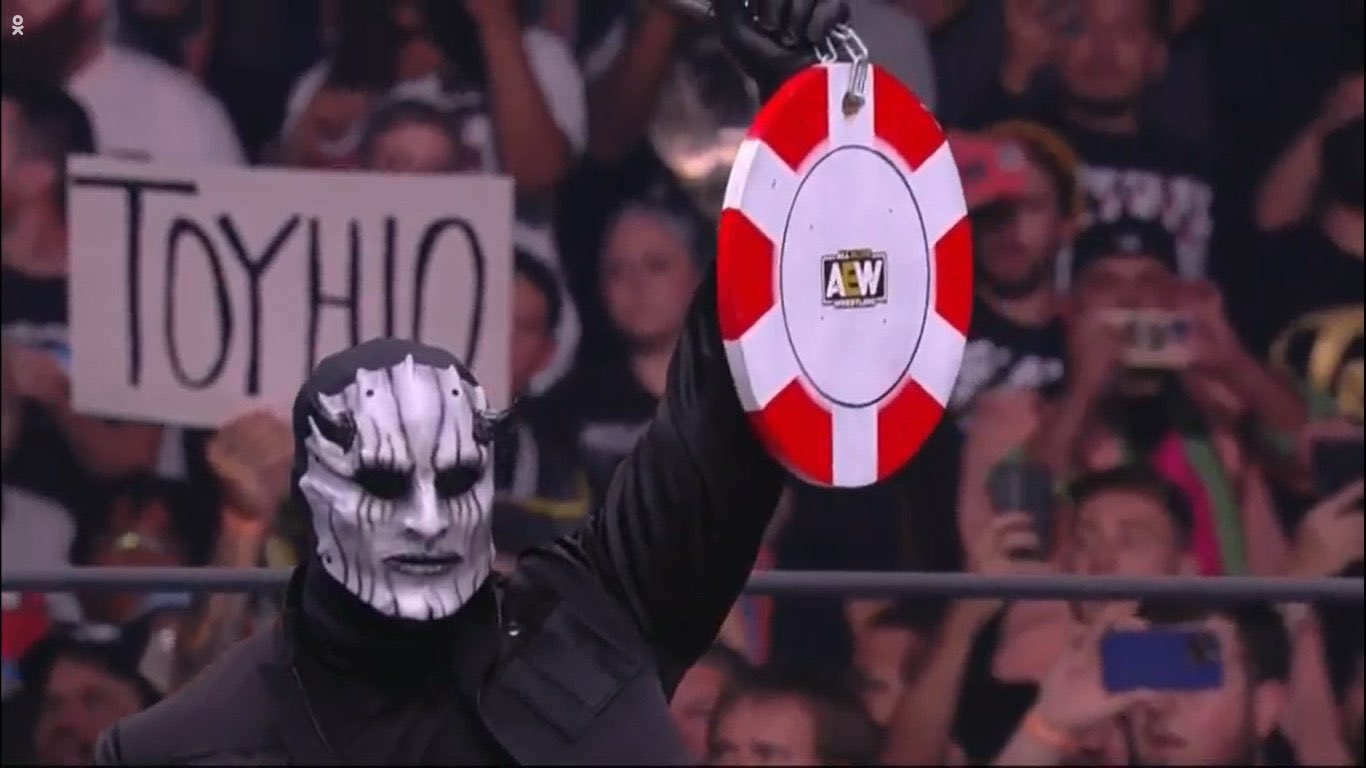 The Casino ladder match was a fun time as always, with the right person coming in at staggered intervals. As with all matches that involve objects not everything goes to plan, it seems the ladders didn't want to cooperate. Here's a secret from me to you, I actually like that when it happens cause it feels more authentic.
First out was Wheeler Yuta and Rey Fenix before being joined by 'El Toro Blanco' RUSH. La Facción Ingobernable is completed in this match by Andrade El Idolo who dominates. Andrade gives a sunset flip to Wheeler Yuta from the top of a ladder into another ladder which is perfectly timed cause that's when Claudio Castagnoli's music hits. Next is Dante Martin who injects some high-flying fun into the match, this is where it ramps up and soon enough Penta El Zero Miedo is in the mix.
Now let's get to that ending, I know a lot of people didn't like it but I loved it, the masked group attacking everyone and the reveal of Stokely Hathaway. We are now going to finally get to the bottom of what is going on. Stokley, while still masked, climes the ladder and takes the poker chip then the music hits. Sympathy for the Devil, then a masked man appears, makes his way to the ring, and takes the chip. No reveal, which made a lot of people annoyed but I for one loved it, I want to know who is under that mask, will we find out tonight?
Winner: The Joker
Rating: 🍕🍕🍕.5
The Dark Order Vs The ELITE Battle For The Trios Championship
Next is the final of the Trios tournament for the AEW World Trios Championship. The Dark Order vs The ELITE. I can't get into this whole match cause it was phenomenal and very faced paced. There were amazing blind tags, breathtaking tag team maneuvers and so much more. The stand-out moments. Hangman Adam Page facing off with Kenny Omega. The crowd support for Alex Reynolds. John Silver bringing the fire to Omega and Omega looking better than ever.
Winner: The ELITE
Rating: 🍕🍕🍕🍕🍕
Cargill Was Not 'That Bitch' At All Out 2022
As much as I love Jade Cargill and think she has improved loads in the last year this match isn't great. The problem is Athena has been in the industry for a long time. On top of that, her moves are a little more flashy and advanced than what Jade has faced before. It's really sad to see this match kinda fall flat, Cargill looks terrible which isn't great. I say this as someone who has watched the improvement but tonight it was like she had gone back to square one.
I am also really disappointed because it is amazing seeing two strong and talented women of color fighting for a championship on a big-time PPV and for them not to deliver makes me sad. There were moments of brilliance but it was disappointing.
Winner: Jade Cargill
Rating: 🍕🍕🍕
The Pinnacle Is Forever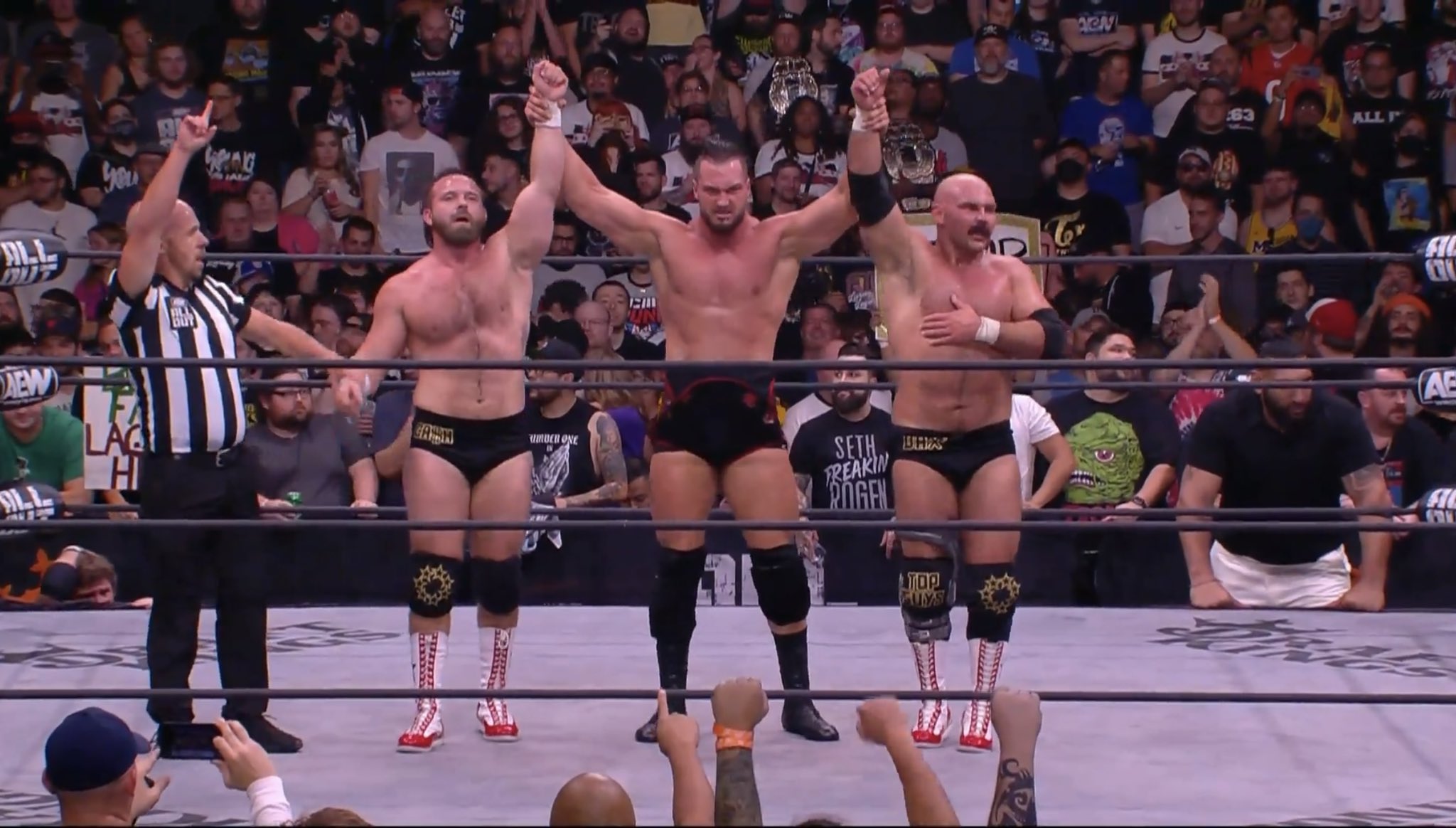 MCMG & Jay Leatheal vs Wardlow & FTR is a lot of fun and is a well-paced trios match. There are shenanigans, hard-hitting moves, and beautiful moments of tag team synchronicity thanks to MCMG and FTR. Cash Wheeler and Alex Shelly are marvelous in the ring together, and a singles match between the two should be in their future. please. this is the best Jay Lethal has looked in a while and while I am not connecting with this new incarnation of this character he is doing some of his best work here.
SAMOA JOE IS BACK and yes I am very excited.
Winner: Wardlow & FTR
Rating: 🍕🍕🍕🍕.75
Team TAZ Implodes at All Out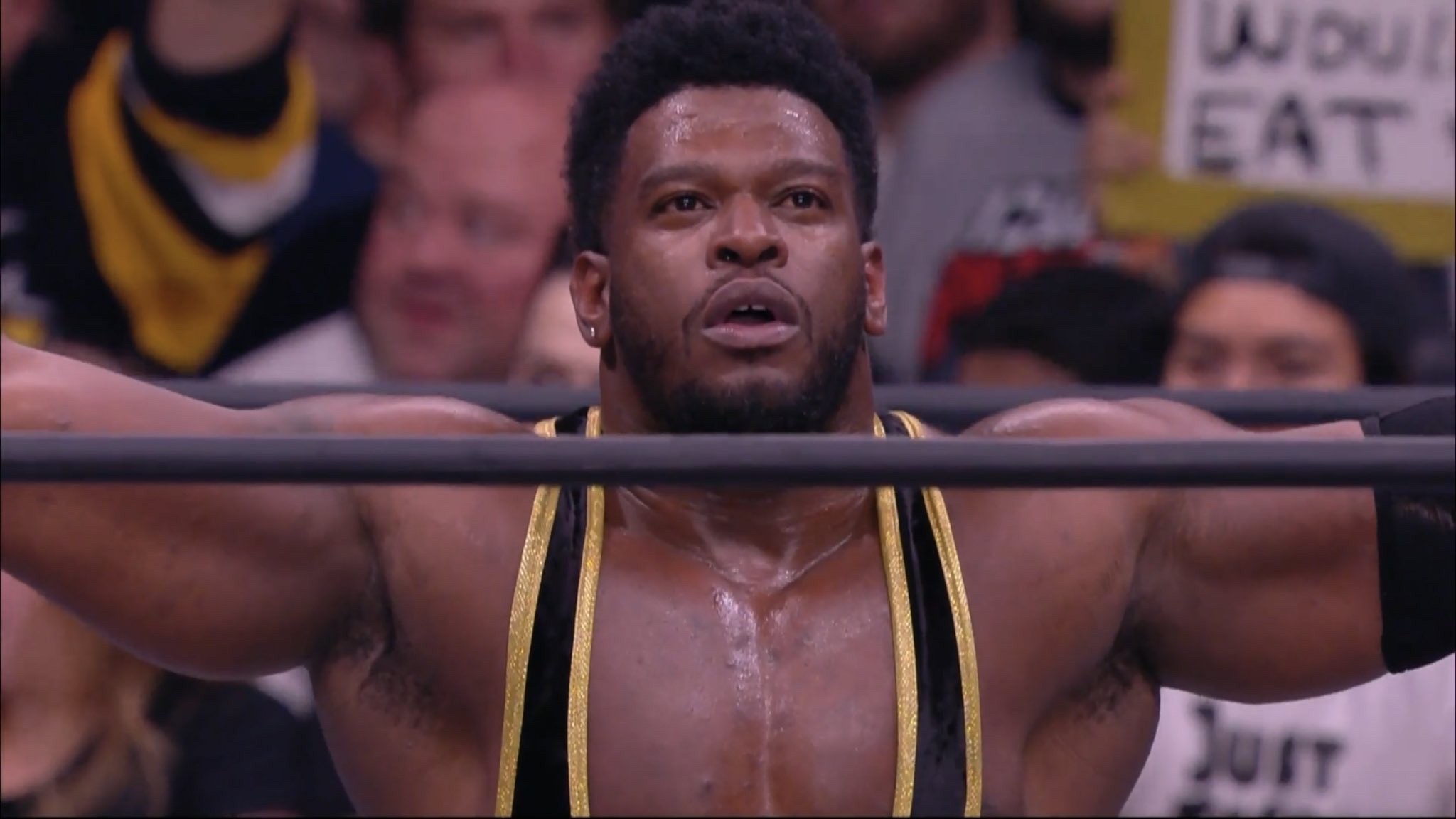 Ricky Starks is amazing, he comes in hard and fast attacking his former friend Powerhouse Hobbs. Starks is already a star but this is Hobbs's moment, he is showing off everything he has learned and looks like a star. A small and short match that did what it needed to do with Hobbs attacking Starks's neck and getting the big win.
Winner Powerhouse Hobbs
Rating: 🍕🍕🍕🍕
The Acclaimed Have Arrived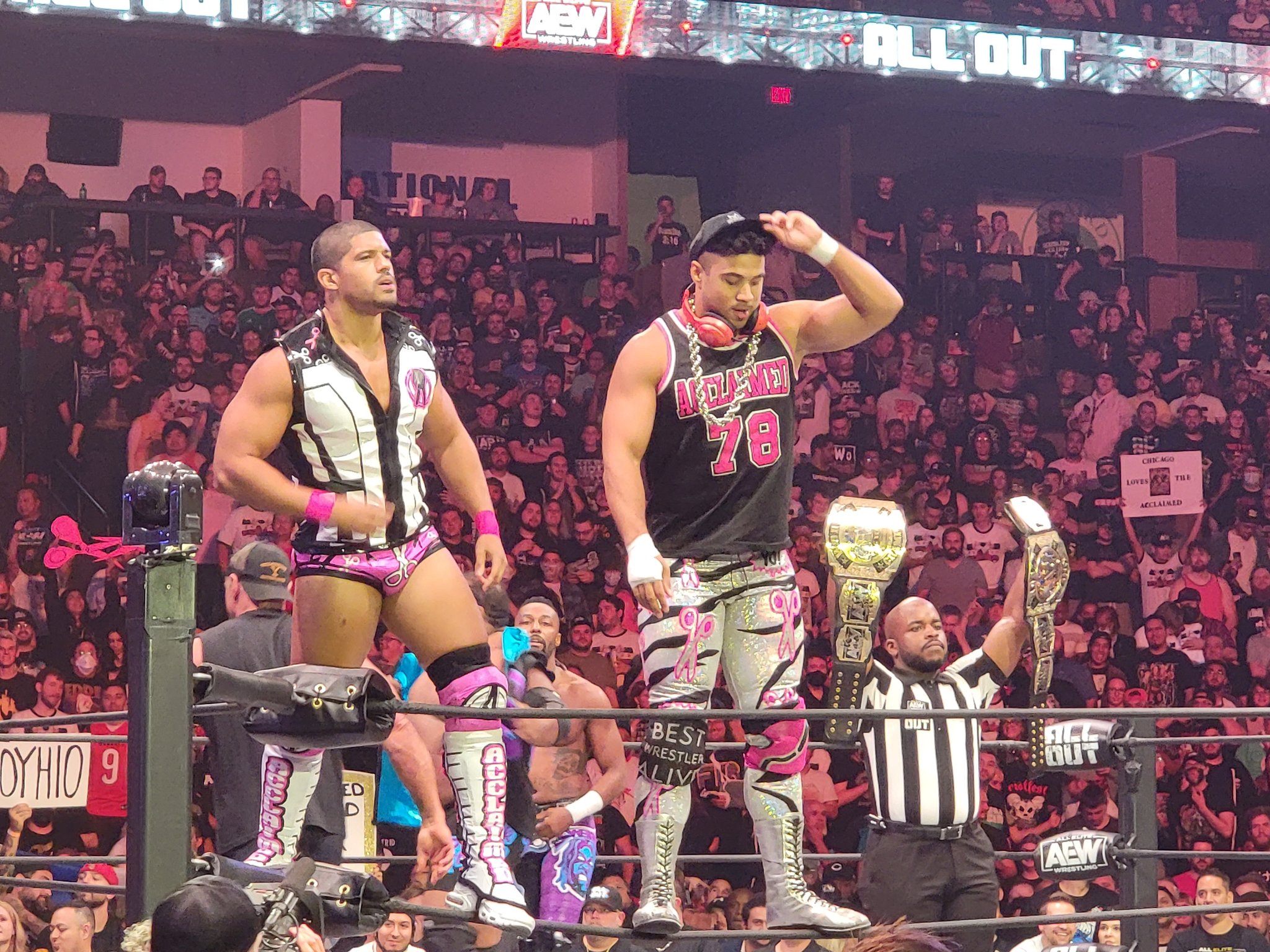 This was The Acclaimed's Night. Swerve In Our Glory are such great tag team champions and do need to be they need more TV time, which hopefully will happen soon. Tonight was The Aclaimed's night, the crowd was on fire for the boys who scream 'Sicssior Me Daddy Ass', how this got so over I will never know but I love it.
The Acclaimed has been one of the best tag teams in AEW for a very long time and seeing them blossom in this way has been magical. There is a fantastic moment where we get the AEW equivalent to the Hogan/Andre WrestleMania 3 slam. Max Caster lifts Keith Lee onto his shoulders and slams him, in a triumphant moment that the crowd and myself at home thought would give them a win. That's not even the end, they keep fighting until the last moment.
Match of the night
Winner: Swerve In Our Glory
Rating: 🍕🍕🍕🍕🍕
Jamie Hayter and Toni Storm Shine
What a hard position for the women to be in but they more than deliver. A four-way match is always difficult but everyone gets their moment to shine. The surprise of the night is the crowd support for Jamie Hayter, as a bad guy she has somehow become a fan favorite and it makes me so happy. She's my home county girl and she has been one of my favorite women's wrestlers of all time.
Storm and Hayter are incredible together and we get to see some amazing counters between the four women involved in this match. We see so many different matchups and combinations of small singles matches, it feels like we are really building this women's division and these four are the pillars of it.
Winner: Toni Storm
Rating: 🍕🍕🍕🍕.5
More Of An Angle Than A Match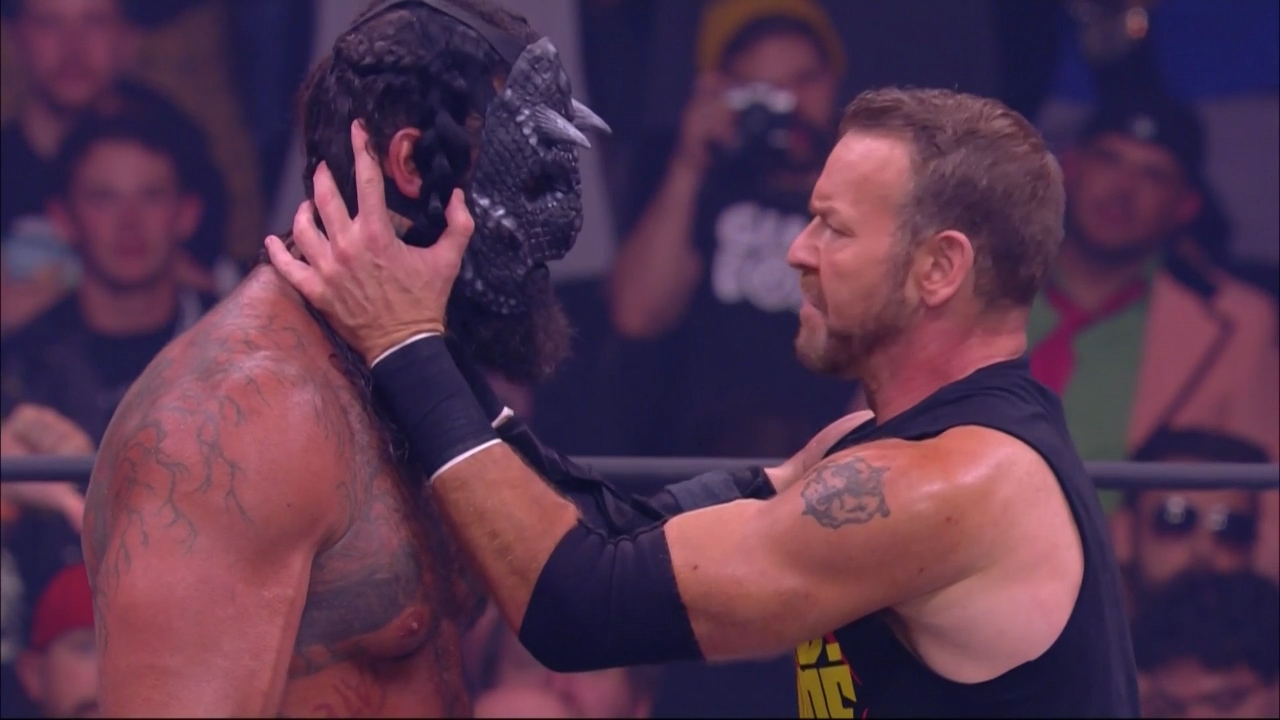 Jungle Boy Vs Christian Cage was meant to be a grudge match, but that is not what we got. Jungle Boy Jack Perry was instantly betrayed by Luchasaurus, who was pretending to be his friend. Cristian Cage has a lot to answer for and is the biggest most dirtbag heel in the company right now. After a huge beatdown and trying to fight back Cage wins in a very quick match.
The Lion Vs The Dragon: It's Almost Medieval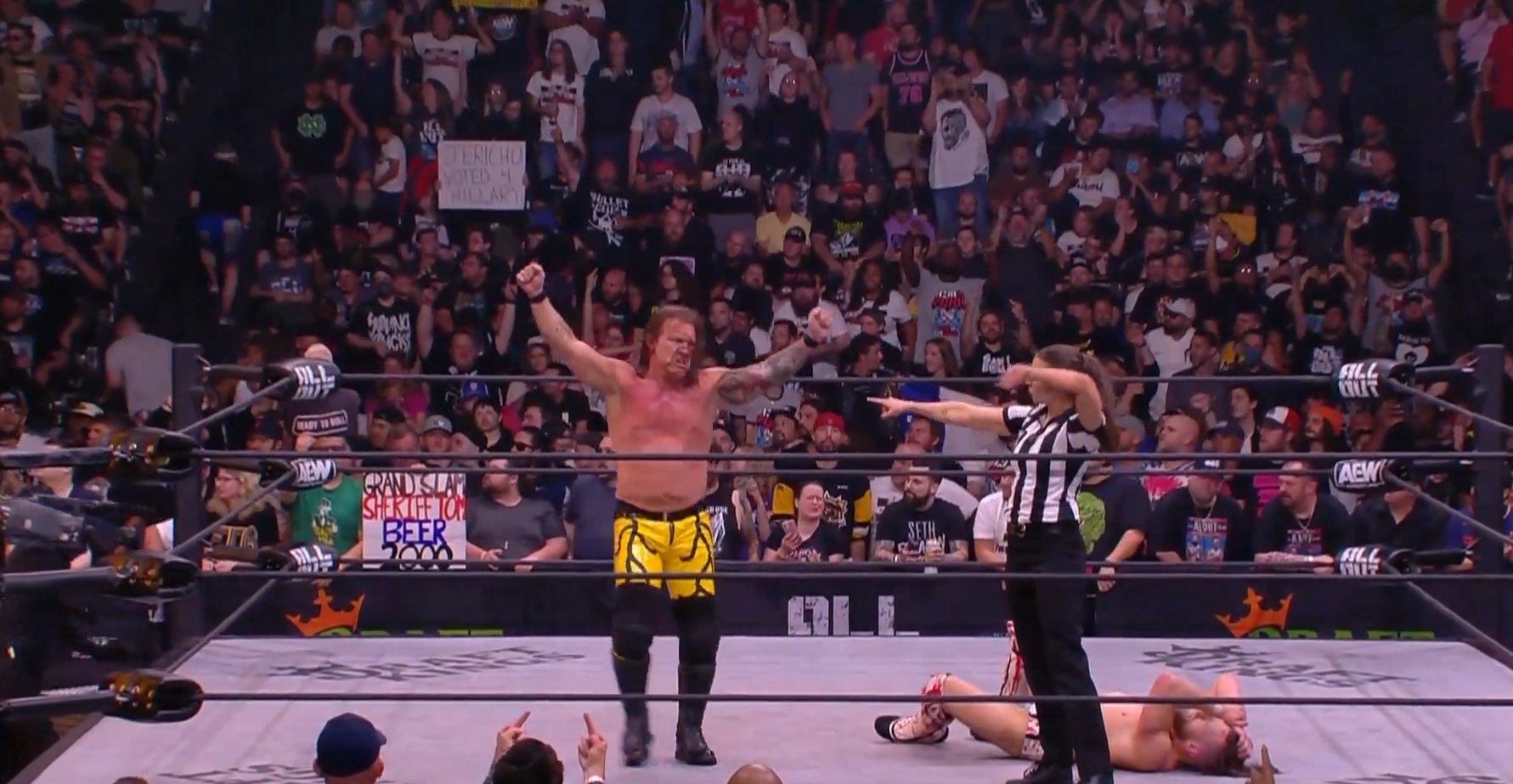 What an exciting match this should be, the Lionheart vs the American Dragon, lets do this. Chris Jericho vs Bryan Danielson is a dream match, I know that gets banded around but the biggest sports entertainer going against the biggest wrestler in the world, it's perfect. The great thing about this match is Danielson getting to show off more of his personality and mocking the 'sports entertainment' thing while Jericho is trying to prove himself as the wrestler he has always been. That's the story here and it's great to watch.
Winner: Chris Jericho
Rating: 🍕🍕🍕🍕🍕
House of Black Go Into the Night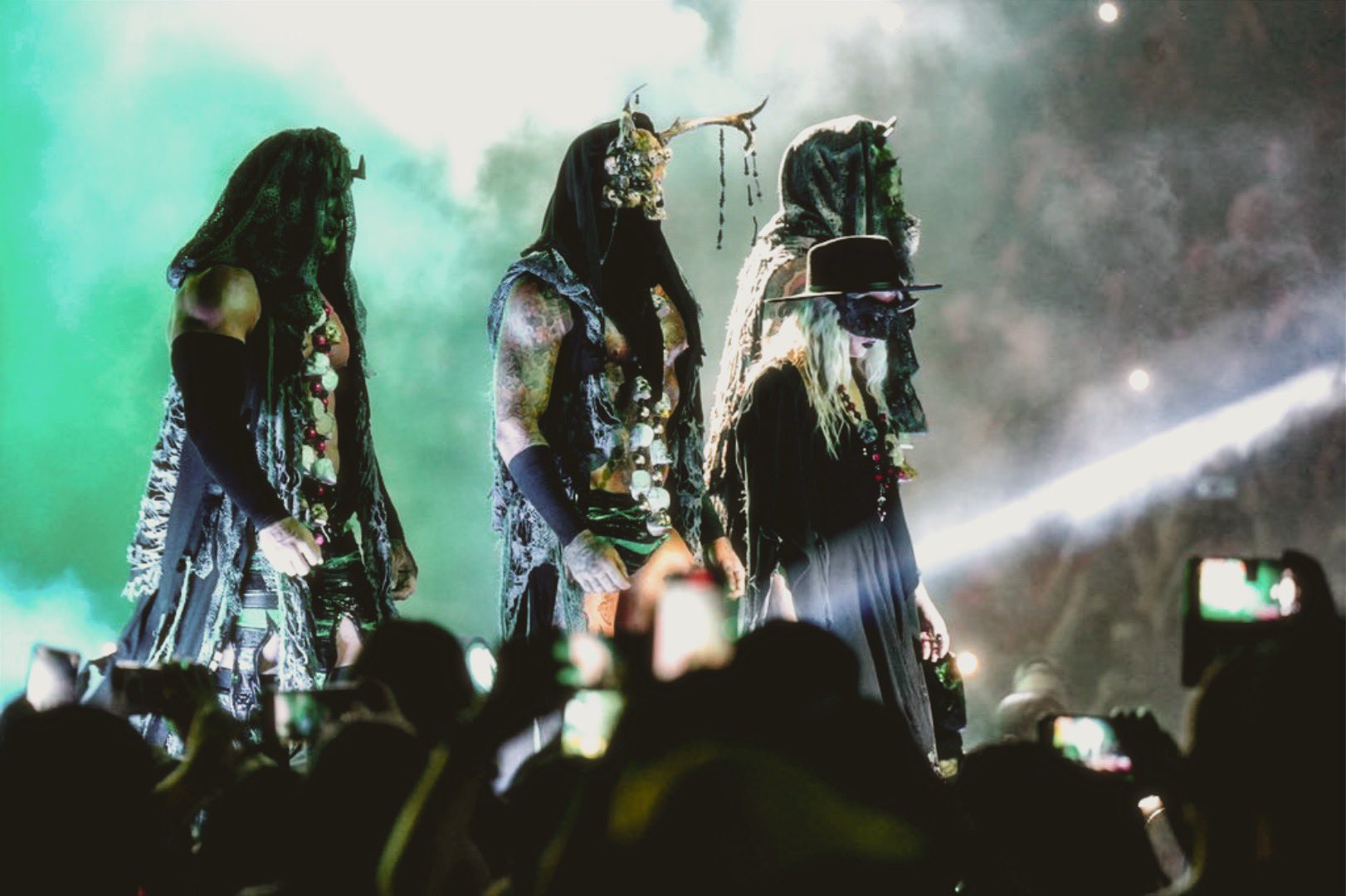 I would like to talk about my love for House of Black and their new entrance with Julia Hart, who is just playing this new role perfectly. The new look is very witchy and a little Stevie Nicks which is perfect, it's also a simple look that just seems to work well. I hope she gets in the mix in the woman's division moving forward.
Miro looks fantastic as always while Sting and Darby are doing their thing. I do feel like this match is great but not on the level of the other tag matches on the card, but we do always need a little something to build to that main event. I do feel like the wrong people won here, if Miro wasn't going to get the pin then House of Black should have won.
Winner: Darby Allin, Sting & Miro
Rating: 🍕🍕🍕🍕.25
The Voice Of The Voiceless Looks Set To End The Summer Of Mox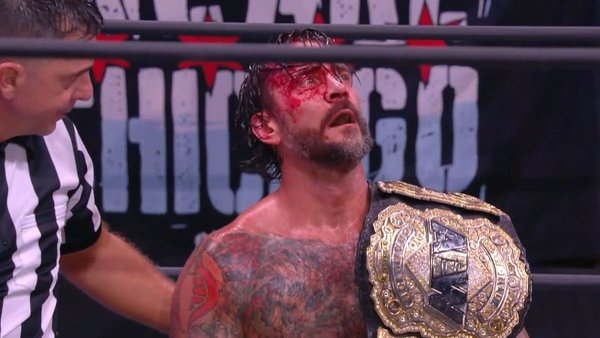 Jon Moxley Vs CM Punk is a match with a strange dynamic, we are in Chicago, and cause of that Punk is the hero, which Mox is playing up to. The truth is Punk is the bad guy here, so we have a Bret in Canada situation. This match is the main event so we have them in the crowd, the more crazy things which are how the main event should be. Having both men go out into the crowd makes more sense than anyone else doing it as both are considered men of the people.
This is a brawl, a fight, a bloody mess of hatred but it is also down to its core a wrestling match. Punk serves all the greatest hits while Mox gives us his hard-hitting submission style that has become more of a focus since joining the Blackpool Combat Club.
And that big reveal, at the end of the night, is the devil you know, MJF and he is here for that Championship Gold.
Winner: CM Punk
Rating: 🍕🍕🍕🍕.5