Joey Janela's Spring Break 7 is back and as the Red Hot Chilli Peppers would say, it's time to 'Dream of Californication' as one of the hottest shows of WrestleMania Weekend and GCW: The Collective comes to you from the Ukranian Cultural Center.
Grab The Brass Ring DLC Match | Shane Mercer Vs Tony Deppen Vs Jack Cartwheel Vs Billie Starkz Vs Alec Price Vs Gringo Loco Vs Komander Vs Cole Radick Vs Blake Christian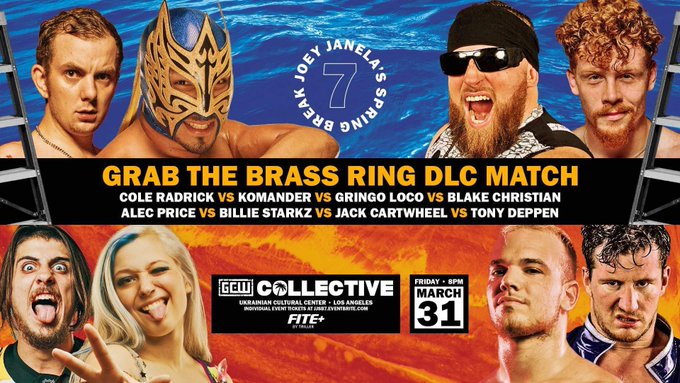 Blake Christian is the last entrant into this match making it a nine-person match. Gringo Loco and Komander have a nice exchange and if you haven't seen either of these guys, where have you been all weekend. Jack Cartwheel is so athletic and absolutely insane with a perfect Saska Special. Alec Price has the knees of a god, delivering them to everyone in the ring.
Tony Deppen is as amazing as always and has been a favourite of mine for a number of years. Billie Starkz takes a nasty bump through a wooden board thanks to Alec Price. Gringo Loco is so impressive in this match while Shane Mercer is the big man, also known as the Iron Demon, he is great too.
Billie Starkz has had a phenomenal weekend so far and tonight is no different, She was so close to winning as Blake Cristian curb-stomped her and got the sneaky win. He now gets to pick whatever champion he wants to face at a future date and I want it to be Masha Slamovich.
GCW Tag Team Championship Match | The East West Express [Jordan Oliver & Nick Wayne] Vs The Moter City Machine Guns [Alex Shelley & Chris Sabin]
This match starts off hot and heavy with MCMG's taking it to The East West Express. Soon enough the tables are turned and this feels like it will be a very back-and-forth affair. Wayne had a match earlier in the night where he was busted open and soon enough he is yet again, blood pouring from the blue plaster on his eyebrow.
The MCMG's get the younger team into an impressive double submission hold, they are showing these young boys how it's done but can The EWE pull it out and win the championships? I hope so. After this, the match gets faster and faster with both teams showing off their synchronicity with The East West Express picking up the win and the championships.
---
Yoshihiko is here and has an in-ring interview. It's ridiculous and lots of fun. They are the most booked this weekend. And it looks like Yoshihiko will be sticking around in GCW for a while. Charles Mason along with Parrow make their way to the ring and attack Yoshihiko, saying that he isn't real and tries to slit his throat. It is traumatic but is saved by his handler, who is revealed as Jimmy Loyd. As Parrow tries to destroy Yoshihiko she comes alive and gives Parrow a german suplex and chances the bad guys off.
---
El Hijo Del Vikingo Vs Speedball Mike Bailey
Let's talk about this match, or try to, as we see two of wrestling brightest young stars face off in a battle of high-flying and submission wrestling. It was a spectacle. Since El Hijo Del Vikingo took the American audience by storm in his stellar match against Kenny Omega in AEW, the anticipation for his upcoming appearances has been at a fever pitch. Following up his phenomenal performance at ROH Supercard of Honor earlier in the night El Hijo Del Vikingo dazzled yet again.
Speedball Mike Bailey has also had an amazing weekend and was a highlight of last year's round of shows. This is a must-watch night with Vikingo getting the win. I wish Bailey had won just to see a re-match but next time for the championship.
Maki Death Kill [Maki Itoh & Nick Gage] Vs BUSSY [EFFY & Allie Katch]
Mummy and Daddy are here dressed like your favourite pink bombshell Barbie and your gay uncle Ken. Wait, maybe my dolls were the only ones that were Queer. Never mind they are two of my favourite wrestlers in GCW. They are facing off against MDK and the woman we all simp over, 'The Fucking Cutest In The World' Maki Itoh. The crowd is insane when they enter and Nick Gage, as you would expect, makes sure Itoh is safe.
This match is wild, with Nick Gage taking on both members of BUSSY before taking Maki Itoh in. This match has an equal back and forth as you would expect but soon Gage is taken out, after introducing a pizza cutter, and BUSSY take control. They beat down on Itoh and use the pizza cutter on her. Eventually] Nick Gage comes to and saves Itoh, presenting her with her own pizza cutter before they, well, use them on BUSSY.
This match is fun, bloody and just very GCW. Maki Death Kill picks up the win here after an insane bout and a double pin.
---
Matt Cardona and Steph De Lander ruin the sweet celebration between Nick Gage and Maki Itoh before going on a tirade about how they should have been booked for tonight. Cardona is a master of the dickhead heel promo and I am here for it. Soon enough the GCW champion arrives, saving both Itoh and Gage and then putting her championship on the line. By this point, Gage and Cardona have battled to the back.
---
GCW World Championship Match | Masha Slamovich Vs Steph De Lander
This impromptu match was announced ahead of time and that's why I love GCW. The unpredictability of their shows always makes things exciting.
Matt Cardona is back and ready to help De Lander win, but soon Maki Death Kill is here and they dispose of him. Maki Itoh was great. hitting Cardona with a chair while Slamovich locked in a submission hold for the tap-out victory over Steph De Lander.
Kota Ibushi Vs Joey Janela
Kota Ibushi enters first and the crowd goes wild. It's also crazy to think that this show sold out based just on the Joey Janela brand and this match hadn't even been announced. It's great to have The Bad Boy back in GCW and his own event after what seems like a long time. This is the main event and what a main event this is.
Janela get's to show off his wrestling prowess here, focusing on technique more than anything, which is what you need when it comes to an opponent like Ibushi. The thing is both can flip from technical beauty and high-flying moments to absolute brutality and risky moves. They are very similar in that respect and It makes the match have an air of unpredictability.
This match just escalates, from technical wrestling to what can only be described as a hardcore romance, it is perfectly paced. Joey Janela gets bused open wearing a crimson mask, while Kota Ibushi doesn't slow down and fights back at every pin attempt. They are evenly matched, even when a door is introduced on the outside. This could be one of my matches of the weekend. It is and with a Kamigoye, Kota Ibushi gets the win.
"I was depressed. I was jelly…I lost myself in AEW. But I want to thank AEW, I want to thank Tony Khan for everything he did for me."

Joey Janela | Trascribed by Kristen Ashly