Jay Briscoe Tribute and Celebration Of Life
Free for everyone on Honor Club and Youtube and filmed after last week's AEW Dynamite and Rampage recording, Jay Briscoe: A Tribute and Celebration of Life is here and what an emotional night. Ian Ricobanni and Caprice were flown out for the event for commentary duties while many current and former ROH wrestlers participated in matches, promos and video packages. It's three hours long so make sure when you sit down to watch that you have snacks and some tissues, cause you will need them.
ROH Pure Championship Match | Hagane Shinno Vs Wheeler Yuta
Wheeler Yuta was trained by Drew Gulak while Hagane Shinno was trained by Taka Michanokue and this is his ROH debut match. This match really shows off how much Wheeler Yuta has grown as a performer, he was always good but the work he has done with the Pure Championship has been incredible. Shinno is no slouch either, an incredible athletic wrestler who is also a master of the technical side of the art of wrestling.
Samoa Joe was the first wrestler to talk about Jay and it is incredibly emotional. You can see as the show goes on how important Jay and the Briscoes were to everyone. Adam Cole tells the story of how he met them and what they did for him. I will never do any of them justice, you need to hear the stories from the mouths of his friends, cause they know him better than we do. but we are all together in this grief cause he meant so much to so many people.
ROH World Championship | Match Without Honor | Adam Cole Vs Jay Briscoe
Next, we get the video package that was shown before Jay Briscoe and Adam Cole's ROH World Championship match at Final Battle 2014, before they give us the match for free. This really is a celebration of the life and career of Jay Brisco. This match is classed as a 'fight without honor' as it is a no holds barred, anything-goes match. This is Briscoe's bread and butter but he only goes this far when he really needs to and he needs to after the disgusting attack on his father from Cole.
This is the culmination of an 18-month saga between the two, masterfully put together by the two wrestlers and called by the absolute powerhouse of Kevin Kelly. This match will probably be in every 'Top 10 Must See Matches of Jay Briscoe' for a very very long time.
Storytime with Adam Cole Bay-Bay is next and he expanded on what he said earlier in the video package. He talks about how much of an amazing man he was and then got the crowd all fired up, ready for the next match. Before that, we get more stories from the people that knew him. Matt Hardy is next and how they talked all the time about their kids after getting to work together in Ring of Honor. I think this hits Hardy quite hard, as it would do, with everything Matt and Jeff have been through themselves.
Marina Shafir Vs Mighty Mayra
Marina Shafir Vs Mighty Mayra was a short match that really showcased Shafir. for those who aren't aware, she is married to Roderick Strong, someone who wrestled Jay on many occasions. They were very close and this was an emotional one for her and the fans who know this about her.
Christopher Danials talks about his time in Ring of Honor and how The Briscoes never left. It's so important to remember that they were always there, they stayed when things were good and when things were bad, they became the faces of ROH and made the locker room a better place. He also talks about how when your name is down to face Jay you knew you were in for a great match.
Survival of the Fittest 2016 | Christopher Danials Vs Jay Briscoe
Jay Briscoe vs Christopher Danilas is the next match from the ROH vault at Survival of the Fittest 2016. This is more a technical masterclass allowing Jay to really show off his skill against one of the over originals of the promotion. It's not just technically sound it's also hard-hitting and a triumph for ROH and both of the wrestlers involved.
Eddie Kingston talks about Jay next and gets ready for an emotional time. He comes from it from another perspective, as it doesn't feel really real to him. Kingston also talks about how Jay was an inspiration to him outside of the ring and in real life.
QT Marshell Vs Eddie Kingston
QT Marshell had his first match in Ring of Honor teaming with Sam Shaw, now known as Dexter Lumis, against The Briscoes. The commentary team call Kingston, Eddie Briscoe as he wouldn't look out of place at the family BBQ.
This match is absolutely fantastic, Kingston is the fan favourite and Marshell is able to get heat by doing nothing. by just existing. It's kings road in style, it's hard-hitting, and both wrestlers are some of the best technicians in the company and deserve all the accolades.
Coltan Gunn talks about when he first got signed to ROH and was in the dojo system and getting to go to his first show. He tells a beautiful story about how he butterfly-stitched up Jay's back after a match. They talked about family for two hours while he did this, after some badgering that is, and this was a very important moment for him.
Nick Neighsmith then talks next about how he wanted to be in wrestling to travel the world with his brother. ROH used to film at OVW and the Briscoes made him feel welcome when he was very new to the business. Stokley Hathaway reiterates this sentiment about how he was in a bad place but the Briscoes accepted him for who he was in the ROH locker room.
Madison Rayne Vs Athena
Next, we have a former ROH Women's World Champion in Madison Rayne facing off against the current champion Athena. This match is a lot more technical and hard-hitting than people might expect from these two but if you've seen any of their work you will know this is how the women of ROH wrestle. Athena has become a lot more brutal since turning heel and it suits her. This is a great match and hopefully, they will get to face one another again soon.
Zayn Decker is a producer at AEW, he previously worked at ROH, and talks about how Jay always gave him the time and made him feel like he belonged in this industry. He only knew him for 4 years but made a huge impact on him, talking about how devoted Jay was to God and his family and that he was just a good person.
Brandon Cutler Vs Juice Robinson
This is Brian Cutlers' first singles match in ROH, having had one match previously as a tag team. Robinson has been in ROH previously as the leader of Lifeblood, a short-lived team that was really cool. This is just a bit of fun really with the comedic stylings of Cultler and Robinson playing the straight man. It's short, it's funny and very ROH. Brandon Cutler is actually a fantastic wrestler and very underrated but he also played his part really well in AEW/ROH. This crowd love Cutler and he nearly wins against Robinson on several occasions but Robinson is just that little bit smarter.
Yuka Sakazaki Vs Sandra Moone
Sakazaki is an AEW original who will hopefully be facing Athena for the ROH Women World Championship, will she add that to her Princess of Princess Championship? Only time will tell. Sandra Moone is also great, I hope she will get to show her stuff in ROH. This match was short but lots of fun and Sakazaki got to show off her strength.
Final Battle 2006 | The Kings of Wrestling Vs The Briscoes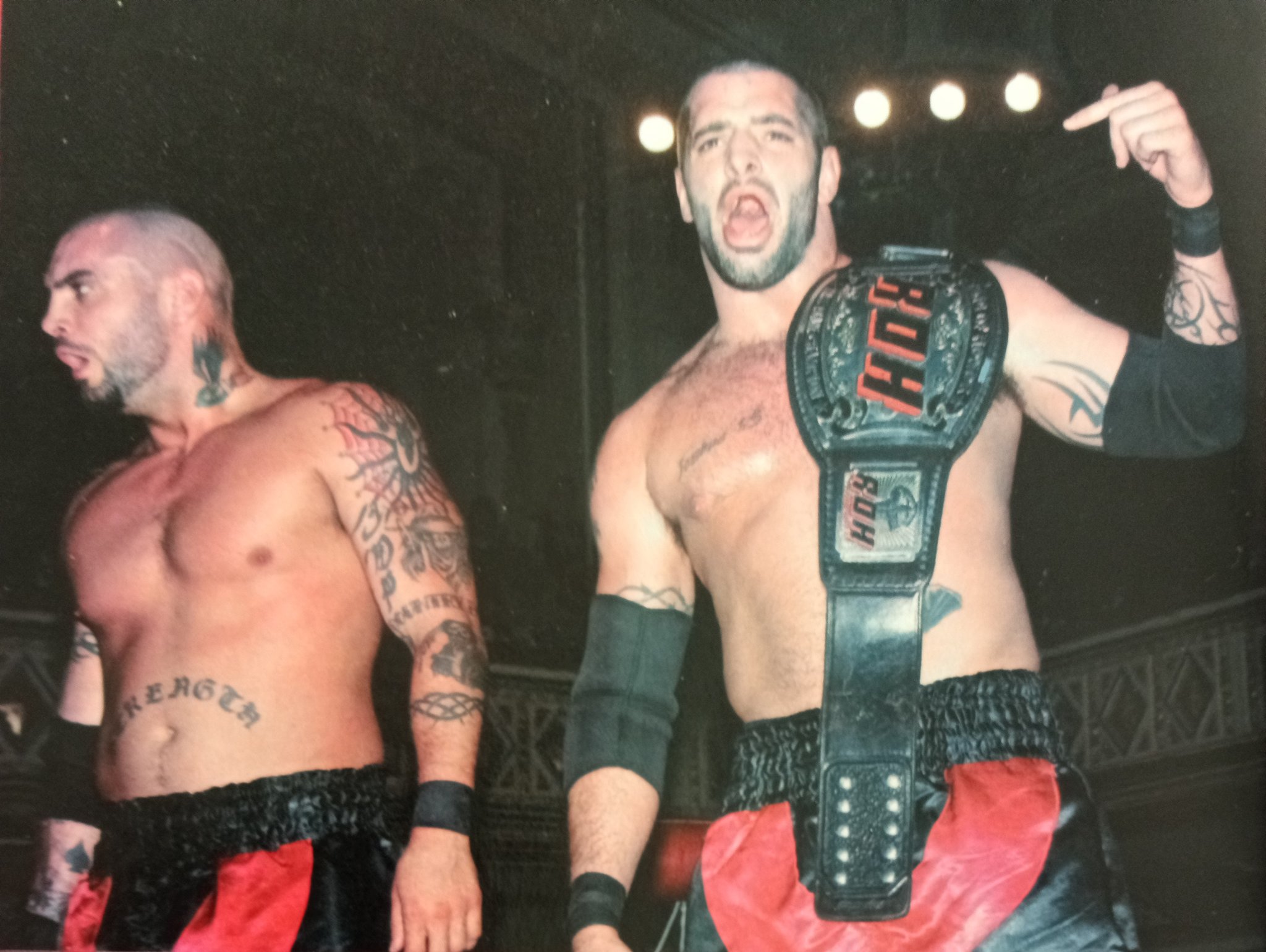 This one is an absolute treat from the early days of Ring of Honor, it's the The Kings of Wrestling against The Briscoes. This is also Claudio Castinolli's last ROH match before leaving for WWE and becoming Cesaro*. The Briscoes at this point had never defeated the Kings of Wrestling and this is their last chance. This is such a great look at Jay, Mark, Claudio and Chris Hero right at the early point of their careers, Everyone is great already but all these guys will be in their prime soon enough.
This is the start of something magical, especially for the Briscoes. The Kings of Wrestling were a formidable tag team and it's sad that we never got to see them reunite and take on the Briscoes in ROH. *In storyline, as it came to pass after the match Castanoli said he would not be leaving the company and promised great things for The Kings of Wrestling in 2007. This wouldn't happen, as Chris Hero left with manager Sweeny, essentially disbanding the team.
Claudio Castinolli talks about when he got the news of Jay Briscoe's passing and how he was travelling to the show at the time. He hadn't seen them in 10 years but when they finally saw one another again in ROH it was as if no time had passed. They spent time together at Final Battle 2022 reminiscing and talking about the kids and farm. He is very proud of the work they did together and is happy and grateful for being able to share part of his life with Jay.
ROH World Championship | Claudio Castanolli Vs Christopher Daniels
Two ROH champions put on a phenomenal main event match to honour the two-time ROH World Champion Jay Briscoe. I can't even put into words how amazing and special this match was and I implore you all to go watch it. I will never do it justice, but it was a very fitting tribute to Jay Briscoe.
Claudio wins with a Jay Driller.